Wreck Diver
---
The A-1 Wreck Diver Program
Why take this course?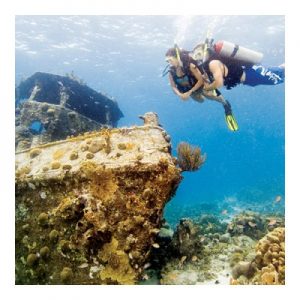 The lure of exploring sunken vessels, airplanes and automobiles is something most divers can't resist.
The PADI Wreck Diver Specialty course introduces you to wreck diving and helps you develop the skills and knowledge necessary for safe and fun wreck diving.
What do I need to start?
PADI Adventure Diver certification (or qualifying certification from another organization)
Minimum age: 15 years old
What will I do?
Information contained in your wreck diver program includes:
The planning, organization, procedures, techniques, problems and hazards of wreck diving
The preparation and use of lights, air supplies, special equipment, penetration lines and reels
Limited-visibility diving techniques and emergency procedures
How long will it take?
Minimum Open Water Training:
four dives over two days
What will I need?
Wreck Crew-Pak which includes manual & DVD
Where can I go from here?
Your Advance Diving Wreck Adventure Dive may count towards this Specialty certification at instructor discretion. This Specialty certification also counts as one of five Specialty certifications required for your Master Scuba Diver certification.
---
Course Fee
There is a $50 per dive fee plus an additional $44 PADI Certification Card administrative fee if completed Locally or on an A-1 Group Trip (includes your photo).
Want It · Live It · Dive It!
---
Sign Up Now
WRECK DIVER COURSE
Please note: Cancelling less than one week before the starting date will result in a forfeit of your deposit.