Scuba Testimonials & Reviews in Denver
See What Others Are Saying About A-1 Scuba & Travel Center!
---
Lynn and Scott, I just wanted to send a quick email to tell you how much we enjoyed and learned at the class we took at A1 scuba over the weekend. Tracy was our instructor and we honestly learned way more than we thought we would going into it from him. My girlfriend signed us up for the class and I was a little apprehensive. I have never had a mask, snorkel, or fins on ever before the class. I was a little concerned when I was doing the online class at all of the overwhelming information. Tracy was very patient and explained everything very thoroughly. He opened up a whole new world to my girlfriend and I.  He made sense out of a foreign sport that I believe we are going to enjoy for the rest of my life!  You have an awesome facility and we couldn't have asked for a better teacher than Tracy. When we were in the shop Austin was so helpful to us as well. We are new to all of this and he assisted us with everything we needed and didn't make us feel incompetent. Thank you for having a top notch facility with top notch people assisting you.
Thank you, C.R.
---
I was in the SCUBA class with Tracy Ackerman this past weekend.  What a delight he was to work with. He maintained a professional environment, was very knowledgeable and patient with those of us with some apprehension with the tasks at hand. As a small business owner myself, I have to say, I would love someone on my team that promotes my business like he does your business! From talking about how your operation is one of the best he's had the pleasure of working with, your facilities being top notch, the current simulator in the pool, the quality of the trips you put together etc. Speaking from a market where it's hard to find quality employees that are willing to work hard and show up, well, he's one of a kind.
I'd also like to brag about Austin on the retail side. He was the first person to answer the phone when I called inquiring about SCUBA classes. He answered all of my questions. He was also the one to help us with finding the right fit for our masks, educating us and explaining what we're looking for. Very patient and knowledgeable.
Just wanted to give you some positive feedback because more often than not, as business owners, we hear about the things we're not knocking out of the park, not all the things we're doing right! We're so excited for our open dives in Utah!!  🙂
---
We just completed the Weekend Plus Open Water Course with you all. Wow!  What a fantastic experience!  Top to bottom (literally) and start to finish, A1 Dive Center exceeded our expectations. We are so glad we chose you!  From the guys in the shop to Dom's Assistants, Jeff and Kevin, the customer service was amazing.  Every step, we were greeted with friendly faces and knowledgeable staff. Super impressed!  The pool is awesome (thank you for keeping it so warm!) and the equipment we got to use is clean and excellently maintained. Thank you!  We will gladly recommend A-1 Scuba Dive Center anytime!
As for Dom… he is simply extraordinary!  We wanted to make sure you all know how lucky you are to have Dom on staff!  Dom's presence in and out of the water is all-world!  He is truly the Master of his profession!!  He takes his job very seriously.  In the classroom and in the water, he was diligent and thorough. He never cut a corner and always made sure we not only understood but followed through successfully with each task. He is patient, non-judgmental and funny, all great qualities in a teacher.
But what makes Dom special is his ability to make you feel safe in what seemed like the most daunting 'I can't do this' moments of my life. His supernaturally calm demeanor underwater resonates immediately so there was never any doubt that we were in extremely capable hands every second. As a mom, I was so worried about everyone else in the water that it turned out to be overwhelmingly difficult for me to do MY work. So, I don't think I could have completed the course if it wasn't for Dom and his ability to keep ME relaxed and breathing all while reassuring me underwater that he also had my family safe and under control. Not an easy job! He is truly remarkable. Dom is the perfect Instructor!  He's also the kind of guy that goes above and beyond without hesitation or recognition. Humble and legendary in our book. We are so grateful for the memories created and skills learned under Dom's guidance and encouragement. Thank you so much, Dom!! We look forward to the gift of scuba diving and a lifetime of adventures.
Kari, Lance, Zac and Makenna Hillis
---
Justin
Just wanted to say thank you again for taking the time during the holidays to teach us how to snorkel. We bought our own masks/snorkels from A-1 to take along on our trip and were glad we did. We had a great trip to St. Martin and were able to enjoy snorkeling at St. Barths- due to your instruction.
Even though the waves were a bit choppy- I managed to hear your voice about what to do and stayed calm. That is a HUGE accomplishment for me! LOL! I also snorkeled at the Denver Aquarium, the same week as our lesson. Overcoming my irrational fear of swimming with fish!
Between those two experiences – I was ready to tackle the open water.  We are already looking forward to doing more during a 4-week trip to the Virgin Islands next year.
So I wanted to thank you again for giving us the skills we needed to enjoy it all! You made a big difference!
Take care,
Beverly (and Andrew)
---
Hi Scott!
I just wanted to reach out and give you some feedback on our past weekend course with Tracy Ackerman. Gosh! What an amazing course!! I can't imagine having a more passionate, knowledgeable, or practical instructor for scuba diving. Only a really good instructor can attenuate their teaching style to meet the needs of students of variable comfort/ability and Tracy did an excellent job! He helped the students that needed more guidance as well as wrangling those who wanted to get ahead of schedule (me 😂).
I just wanted to say thank you for providing such an exceptional environment for me and my husband to learn a new skill that will hopefully provide years of fun and adventure. The environment felt safe and the instruction was EXCELLENT with Tracy!
All in all I can't WAIT to scuba dive in real life and I'm annoying everyone I know with my enthusiasm. Tracy is the kind of instructor who brings that out of people.
Thanks again!
Dr. C.
---
Hello Scott,
I wanted to take a minute to recognize the quality of the interactions that I've had recently with A-1 Scuba. Your entire staff has exceeded my expectations. From the " basics" of helping to ensure proper fit and sizing of some new gear, to the enthusiastic referral and explanation about the Scuba certification options as well as upcoming trips (we are going to Homestead crater with A1 in a few weeks). It impressed me immediately that you have a top notch group of employees, a clean and well maintained training center/pool, and a full service dive shop.
All of that made the decision to arrange for a private instructor with A-1 Scuba to teach my young children (only 10-12 yrs old) how to Scuba dive seem possible. Our instructor Tracy was fantastic! He is a real asset to your organization. He is so passionate about Scuba diving and has a genuine desire to share his knowledge and experience by being an instructor. He has a natural and easy confidence that quickly got the respect and admiration of my children. Before the classes even began he was offering advice and helping us stay organized and setting us up for success. During the class he made sure that the kids had an understanding of the material and the skills needed, so that everyone can now be confident in their abilities to safely enjoy this exciting new hobby of Scuba diving. I can't express how happy, excited, and thankful we are as a family for Tracy's help in opening the many new opportunities for our adventures underwater.
Sincerely,
CN
---
Mr. T,
The service that I have come to expect from A-1 consistently exceeds the industry standard. Our fire department continues to use A-1 because you've earned it and we know the stellar service you provide, along with your quality products, assures us the best from the best.
See you soon!
E.B.
---
Hi Scott,
My family (wife, 2 kids, and I) just completed the open water dive class. I just wanted to tell you how impressed I am with the way A-1 Scuba runs the class. Tracy is an incredibly knowledgeable diver; but more importantly, he actually cares about his students' success! Serene is also extremely knowledgeable, cares about students' success, and added a lot of helpful tips. I tend to ask a lot of questions when I don't fully understand the topic. They were both very patient and always answered all my questions and made sure I understood the reason behind the answer. They even stayed late on Wednesday to ensure everyone in the class mastered the necessary skills for the upcoming open water dives! I wouldn't hesitate to recommend A-1 to anyone because of them!
Thank you for putting on such a great class!
Sean
---
I just wanted to say thank you and give a big shout out to Jerry "Dr. Rock". I did the Aquarium Ecology dives today and it was a wonderful experience. It had been a few months since I had been in the water and Jerry and your staff were educational and patient while I "got my feet wet again" both figuratively and literally. I am so glad that I got my certification with A-1 and look forward to continuing my education and dive experience with all of you.
---
Good Morning A-1,
First off, I would like to say I am so glad I signed up w/ A-1 Scuba and I'm very excited to complete my open water certification so that I can start looking into the next classes I would like to take. All the staff has been amazing from the class instructors (Zan, Lynn, Dom) to the help I received when purchasing my snorkel setup (Eric). Pretty great vibes your team has going there!
Have a great Sunday!
Cody
---
Scott,
I just wanted to take a moment to thank you for the excellent staff you have been able to cultivate! From our first time in, your retail associates have all been helpful and attentive to our numerous questions. I especially want to recognize Chris and Eric for putting on an amazing Weekend Plus Course this past weekend. Both of them bring a unique flair to the learning environment but they worked well and complemented each other really nicely. My wife and I appreciated their love and enthusiasm for diving and enjoyed the entire class. Capping off the weekend activities by diving in the aquarium was truly a treat!
Chris and Eric's enthusiasm was so contagious we are already planning on attending future classes (next month) and going on a shop sponsored trip (likely Cozumel).
Thanks again; cheers!
Jake & Vanessa
---
Hello A-1!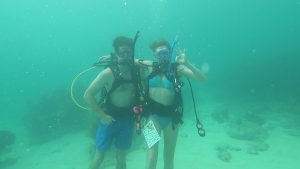 I'm reaching out to extend a HUGE THANK YOU to Chris Hatfield for such a great scuba training experience! My husband and I took the Friday night to Sunday afternoon "weekend warrior" course, with the completion of Dives 1 and 2 at the Aquarium, in mid-September.
Chris was our instructor and was FANTASTIC! He was really nice, fun, knowledgeable, clearly experienced in scuba diving and extremely supportive. He was patient with our entire class, which was hard because we had a couple kids in our class that I am convinced didn't even want to get scuba certified. (I'm an adult and was visibly the most excited to get certified, haha!)
I appreciated how Chris was focused on safety and helping us get prepared for all of the "what-ifs" under water. I also think that completing Dives 1 and 2 at the Aquarium was THE BEST idea! Chris had us fully prepared so it was an awesome experience!! I loved getting to try salt water scuba diving as part of our training.
We recently went to Key West to complete Dives 3 and 4 and are officially Open Water certified! We used the SSI App to find/connect with Dive Key West. We had a great instructor there and we could tell he was happy with how prepared we were upon arrival and as soon as we got in the water, he could tell we were ready to go! We have Chris to thank for that!
I've attached a picture for fun! We are keeping our eyes out for specialty courses and trips, and have asked Chris to let us know which ones he's leading.
The scuba addiction has commenced! 🙂
-Jacki and Jon
---
Hi Heather and Kevin,
We just got back from our trip to Bonaire and wanted to send a big thank you to you & Kevin for ensuring Jack and I were so well prepared. We arrived on Saturday the 14th, did our check-out dives on Sunday the 15th, then got in 8 more dives during the week, including a night dive.
Our SSI instructor was very impressed with our skill set and wanted me to pass that on to you. He couldn't believe how much we already knew. I think we were in the pool for all of 10 minutes before we went into the ocean. Check-out on our skills went quick, then we got to do a 41 minute dive! And now we're both completely hooked.
Besides the night dive, when we decided to hire a master diver to guide us, we did all shore dives with our friends – 6 of us total. They were all very impressed with how well we dive – very calm, good buoyancy control, etc. Part of that is our personalities, but a big part is your training.
So thank you again,
Best,
Mary & Jack
---
Hello Scott,
We (myself, wife, and two sons) just finished the Weekend Plus course and arrived back from the aquarium a few hours ago. It was fantastic! Chris and Ryan were great – very helpful, knowledgeable, and were a pleasure to be around. They answered our questions, which I am sure they've heard a thousand times, like the pros they are and never once made us feel like newbies.
I wanted to let you know how much we enjoyed the training and were thankful for Chris and Ryan.
Thank you,
Marshall Family
---
Thomas,
I wanted to let you know that I successfully completed the Open Water Certification dives in the Dominican Republic. Thanks to you for the amazing job you did in the pool sessions, they were so helpful, and you got props from my instructor in the DR for making me well prepared.
Looking forward to blowing bubbles with you again soon!
Sincerely,
Erik
---
I recently had a great diving experience at your store with Julie. She is a fabulous instructor! Special thanks for so quickly getting me onboard and the SSI recognition from the other training agency. That's awesome.
Also, please extend my thanks to Dart who I first talked with who was so helpful and suggested I look into a private class. Then I heard from Austin who was incredible!! I called and emailed other stores for 2 days until I found you and you said YES to doing a private lesson right away! I am so happy I did this refresher! I assumed it was like riding a bike, since I have done it many times, but I learned so much from you- many safety things I had forgotten. I will highly recommend A1 to everyone:).
Warm regards,
Marcia
---
Dear Ryan,
Thank you for being such an amazing instructor! I was completely calm, assured and confident that this would be a wonderful and safe experience because of you and A-1. May not seem like a big deal, but as a mom who worries so much (especially with water and apparatus involved), big deal to me. So thank you very much and we look forward to seeing you in our continuing education with scuba.
Kimberly
---
Regarding the Shark Cage Experience…..
Had a amazing experience and can't wait to do it again! Thank you team!
---
Hi Carol,
2 years ago I took the PADI Rescue course with you and A1 Scuba. I really enjoyed the course and learned so much from it. This past week I had to actually put those skills to the test.
I was on a 5 day LiveAboard in the Coral Sea, just outside of the Great Barrier Reef. While on a dive at around 80 feet, I heard an odd noise and then I spotted a diver with a free-flowing regulator. Her buddy appeared to be frantically trying to catch the bubbles and the diver in distress was flailing about trying to identify where the flow was coming from and having chaotic buoyancy. We would later learn that the diaphragm in her freshly serviced alternate 1st stage popped, and due to her lengthy hose arrangement, she was unable to visually see what was happening. It drained her entire tank in about 30 seconds. After seeing the rate of flow coming from the diver, it was clear to me that there was some form of catastrophic gear failure. I calmly swam over, held onto her BC to take control of her buoyancy and gave her my alternate. Once I got her to accept my alternate and make eye contact, she started calming down. The 4 of us then safely ascended with the distressed diver working off my alternate.
I feel like the drills and exercises you had us go through during the rescue course were absolutely invaluable. In this instance, the diver's buddy was an experienced advanced open water diver who seemed completely unaware and unprepared for an emergency. Not to criticize her buddy, but after observing his response to the situation, I felt that it highlighted the important of rescue course and the difference it makes. I am confident that the rescue course is the reason I was able to calmly assess the situation and quickly decide how to proceed. I'm now back in Colorado and reflecting upon the trip, and that dive in particular. I wanted to take this opportunity to share the experience with you and say "Thank You" for the high quality instruction and guidance you provided. It continues to make me, and the people around me, safer divers.
Thank you,
M Fry
P.S. During this same trip I also had to tow an exhausted diver and go through missing man procedures after my group lost a man during a night dive. Never a dull minute.
---
Hi Bob,
Diving with the sharks was a great experience and your team did a spectacular job. It really was a top notch experience which I will share with many as I travel around. Adam guided me with 2 other divers and he did a great job of making the other 2 relatively new divers feel very relaxed. The sharks also cooperated and managed to drop a very nice tooth in a place where I could find it.
Thanks again and regards,
Richard
---
Hello Scuba Steve!
Thank you so much for teaching all of us this past weekend! It has been so much fun learning all the different techniques and yesterday being in the aquarium, was awesome! You are a great instructor, a perfect balance of serious (because it is a very serious skill) with fun( because it is such a fun, exhilarating hobby too!) Thank you for being so kind to Jason and Diamond. They had fun being there with me. They had so much fun watching me at the aquarium and we got some amazing pictures! This whole experience has been so wonderful and I look forward to not only going on vacation and using these skills but also learning more so I can be an even better diver. I wish you well and hope to see you in the near future!
Tami
---
Hi Scott and Lynn,
I know you guys know you have a great crew, but I just wanted to let you know how great. Two weeks ago, we were diving with Horizon Divers in Key Largo for our Deep and Nav specialties so that we could become Advanced Open Water (we chose Horizon Divers because they exhibited with you earlier this year at your summer celebration). At the end of our courses, as our instructor was signing off on our log books, he stated that at this point, he usually points out what the divers need to continue to work on, but that we had such solid training he didn't have any constructive criticism for us. He said we communicated well as buddies and that we had great buoyancy control. Scott and Lynn, if you had any idea how badly I struggled with PPB, you would be shocked to hear anyone say that.
So anyhow, I wanted to give a shout out and thanks to all of our instructors at A1 – Chris, AnnaMaria, Fawn and Butch. Hearing our instructor at Horizon say that we were solid divers was a much needed confidence boost, but also a great testament to the instructors you have. We couldn't have done it without you!
I also want to say thank you to Meg and Ryan who worked with us to fix a gear issue successfully over the phone while we were in Florida. I mean seriously, how cool is that?
Thanks again! We will be in soon!
Shannon & John
---
Scott, Lynn and A-1 Scuba,
Thank you so much for all of your amazing support and assistance with our recent dive trip to Cozumel Mexico with the disabled diving program. Your expertise, advice and support throughout the whole process was undoubtedly the secret to my success of diving once again even though I am disabled. I was so impressed by the seamless coordination and team effort by Lynn, Scott, the staff at A-1 scuba and also the coordinating efforts with dive paradise in Cozumel. It truly made the trip magical!
Thank you so much and I look forward to talking with you all again!
EB
---
Hi Aaron,
I just wanted to say thanks for everything, both training and communication wise. My trip in Cayman is absolutely amazing. I'm officially open water certified and my instructor out here said it showed that you guys care about what you do in Colorado. He said lots of time people come out with clearly subpar training because their instructors know it's not their problem when they leave and that that is not the case. I wanted to personally thank you for making sure I was prepared and that my diving education is smooth!
Thanks,
Lauren
---
Dear A-1,
I usually don't do this but I had to write to your company about our recent aquarium experience. From the minute I contacted A-1 Scuba I had nothing but fantastic service! Meg did a excellent job of working around our tight schedule and coordinating with the aquarium and finding us a guide for the day. She was very professional, prompt and a pleasure to deal with. Our guide Louise was a blast from the minute we met her at the dive lounge until we said goodbye at the end our our program. She was very informative and extremely fun to be with. She spent extra time with my daughters pointing out fish and other things that they might have missed. She didn't even laugh at me once I put on my wet suit! Both of these ladies deserve a "well done"!
My family agreed that this was one of best activities we have done in quite awhile! We were really excited to find the free try scuba certificate in our bags and are already trying to figure out when we can come back. Three of us really want to get scuba certified and A-1 will definitely be the company we will use.
Again please pass our thanks along to Meg and Louise and we look forward to dealing with you again
Ronnie
---
Hello A-1,
I finished up my Open Water certification last week and I wanted to provide some feedback on my experience. First, I want to talk about the people. Over the last couple of months I've had the opportunity to interact with quite a few folks there. The thing that sticks out most is how fantastic EVERYONE there has been! I've honestly never seen a business with such a great group of professional, friendly and knowledgeable employees before. Everyone I've dealt with has gone above and beyond what I would have expected.
Don—Try Scuba
Wendie—Try Scuba coordination
John—Equipment purchase—stayed past closing to help me
Meg—Equipment Purchase—stayed past closing to help me, Regulator Color Kit Install, Care and Maintenance Class
Aaron—Dives 1 & 2 (Aquarium)
Ryan—GoPro Class
Shane—GoPro Class
Bob—Reserved rental equipment for Chatfield dive
Louise—Dives 3 & 4 at Chatfield
Stosh—Dives 3 &4 at Chatfield
The other thing I wanted to comment on is the efficiency and attention to detail. Every facet of the process seems to be fine-tuned to perfection.
Prior to EVERY class I received an email with all of the information I needed as well as any attachments.
I received personal phone calls to confirm my attendance and make sure I didn't have any questions.
Being able to dive at the aquarium for part of my certification was an AWESOME experience! I can't thank Meg enough for explaining that option when I stopped in on my very first visit.
When I arrived at Chatfield for dives 3 &4 everything was ready (awning was setup, tarp was laid out, water was available)
The classroom for the GoPro class looked like the room was always completely dedicated for that purpose with a complete display of accessories.
I just want to say thank you to everyone for making the certification experience so pleasant and exciting! I cannot offer a single suggestion on anything that could have made it better. I'm looking forward to putting my new skills to use and expanding on them with continued training!
Customer for Life,
E. Tyler
---
Hi Wendie,
Thanks so much for being so flexible on getting my family's course work done for the open water course. The course was excellent. AnnaMaria is an excellent instructor. The class was fun, thorough, and informative. She really enjoys teaching and it shows. Kevin her assistant is really a nice guy. He helped provide the level of safety and comfort I was looking for in the class. Please thank them both.
Thanks again for a wonderful experience
Dave T.
---
Hello A-1,
We were in on Sunday to try out our gear in your pool (I purchased a new BC at your recent May Event) before our dive trip to Bali in a couple of weeks. We noticed that my husband's regulator was breathing very funny so we waited to ask Shane a few questions. He went out of his way not only to take a look at it, try and correct it and then he spent extra time after closing (we are very sorry about that) talking about next steps.
I was certified with A-1 over 20 years ago. I've moved up to the mountains where we went to a new shop a handful of times that was a little closer. We have since realized that your shop is the only one we will go with from now on, especially when my husband is looking to get a new 2nd stage in the near future based on Shane's suggestions. We really appreciate all of Shane's help and really appreciate your shop.
Thanks again!
Kelly and Jason
---
Hi Todd,
First off, many, many thanks for making my dive in your shark tank possible on Saturday — I had a great experience, and, as you instructed me to do, had a lot of fun!
I'd like to add, too, that the A-1 crew who led the experience — dive guide Bill Tanner with support from Kym and Stosh — get a lot credit. I was less concerned about that personally, but their care of the paying guests that day reflected well on your organization and the product you're providing.
To sum it up: I was in town for a family wedding, but the dive you made possible was still the most memorable part of the trip — again, thanks for the opportunity!
G. Bell
California Academy of Sciences
---
Ryano,
I'm very impressed with your shop and my visit was well worth the drive from the Springs. My equipment is in good hands.
Doug
---
Hello Scott and Tom,
The HSA-ITC course is truly the most rewarding scuba class I have taken. Thank you both for sharing your time and your expertise. I can't wait to put these skills to use!
I enjoyed your warped senses of humor, but I imagine that isn't the input you're looking for. ;0. My favorite part of the class was the pool time. Putting yourself in someone else's shoes (or wheelchair) was incredibly eye opening. As the able bodied "driver", being able to give the scuba experience to someone who otherwise might never experience it was very humbling.
I hope I have the opportunity to work with you again.
Heather
---
Dear A1,
We just got back from Thailand. What a trip. The Diving was great. We are both now advanced open water nitrox divers. Thanks for the great head start, the guys on the island were impressed with our level of understanding and mentioned that you guys did a very thorough job. So thanks for that.
Grant and Molly
---
Hello A1,
Thanks for a great skills refresher class! I have 100+ dives in 10+ countries and I've done multiple refreshers over the years. This was the most thorough class I've EVER taken (including my original PADI course!). The instructor (Butch) was patient and gave clear directions. The equipment and facility were great. I look forward to when my daughter is old enough to teach her to dive – I will bring her to A-1, for sure!
Kristen
---
Hi Scott,
We talked on the sales floor after I completed the Confined Water Cert. and was preparing for the Crater to get the Open Water Cert. Got that done in January, went to the Caribbean a week later. Completed 3 wonderful dives, 2 on island of Bequia and 1 off Carriacou, during my 2 week sailing adventure with friends on their big catamaran.
Confident and comfortable are the first two words that come to mind to describe how I felt in checking out the dive shops, signing up and then falling into the water backwards off of the dive boats. Thanks to you and the great staff at A-1. I had the right gear thanks to the sales staff and the best training thanks to Jeff, Stosh, and I believe it was John who was at the Crater with Stosh.
Looking forward to getting back into the water asap. Never thought I'd be diving, traveling to the Caribbean in my lifetime. Bucket List items for sure.
Take care and best regards,
Barry S.
---
Tom & Becky and A-1 crew,
Just a quick note to thank you both for doing such a great job with the Open Water class this weekend!!! My daughter Li had a great time and learned a lot. Tom – Your style/knowledge is perfect for teaching this Open Water class. You have a very calm & thorough teaching style in the pool. It really makes everyone feel more comfortable doing something which is completely new & foreign to most of the class. Li was having some trouble equalizing and your help really made her feel comfortable and know that it was "O.K.". After the classes she kept telling me and my wife how fun it was!
Becky – Your happy & helpful style of teaching really helped everyone have a great time. I saw lots of smiles over the weekend!
---
A-1 – Wow! The store is amazing with all the gear, great staff, classrooms, travel & pool! The whole pool setup is so cool! Really like the separate sections for surface instruction & deep water without the graduated slope. And, the "tank boat" simulation is nice. Plus, all the gear was top knotch! Thanks!
Anyway, GREAT JOB to Tom, Becky and A-1!
Sincerely,
Steve W.
---
Scott,
I just want you to know that I had my best vacation in a decade! The same and more can be said about my daughter. I have always told my girls to pay attention to the electives because they just might be the one course in college that leaves the most lasting impression. That is the case with scuba and I have no doubt you will be seeing more of her in the future! It was a bit hard as a father because I spent more time worrying about her than watching the Cozumel turtles go by. After a couple days I realized she is a better diver than me and then I relaxed.
I can not speak highly enough of all the people that we met on this trip. Helpful, friendly and safety conscious. It felt like a large family.
Lastly, It is an honor to dive with the two people with disabilities (Dave and Gary) and all the people assisting them. I'm still amazed at the courage that must have taken initially. All the people on our boat were awesome and helpful. When Lynn told me that this was a special trip because of the challenged diver program I didn't know what to think. Next time I will be looking for it on the schedule and be the first to sign up.
Thanks again,
Neil
---
Hi Lynn and Scott,
Thank you for having us at your fantastic May Scuba Event! It was in my opinion, one of the best dealer events I've ever attended and definitely the best and largest I've ever seen in the dive industry. The customers all seemed very happy and eager to learn about new products and activities, and your team – they are the best!
Thank you for your wonderful hospitality, and thank your team also for the great work they did coordinating us suppliers, reps and customers.
Best regards,
Sven E. Harms
SeaLife Pioneer Research
---
I had the extreme pleasure of spending this past weekend with the owners and staff of A-1 Scuba in Denver and all I can say is WOW!!! What a well designed, customer concentric, smooth running operation they have, from top to bottom. I had a great time rockin' some of my scuba songs for their annual sales event and I will anxiously look forward to my next visit to this Denver destination.
Thanks again for a great weekend of fun!
-Pup Morse, The Scuba Cowboy
---
Great May Event and as always, A-1 sets the standard!
Bob M.
---
Gwen, Katie, Lynn & Scott,
We appreciate all you & the crew at A-1 have done for us and our family. Our experience is beyond words. There is still is so much to process. Throughout the trip, our family frequently exclaimed three words…"over-the-top!" In A-1 style, your team delivered beyond our expectations. With grateful hearts, we thank you!
God's abundant blessings,
Jon & Twila
---
Hi Scott,
I'd like to thank you for the awesome training that you and your very kind staff provided. The class time, pool time, aquarium time, and the lunch tab that you so graciously picked up were A-1 first class.
I gotta thank you for taking the time to send the pics. Hope to see you guys again,
Bob
---
Hi Scott,
Thanks for the pictures, they are great! I must agree with your statement about this being the best class ever. This was, no doubt the best class I have ever taken. Over the years and the various scuba instruction which I have been a part of, there has been no class like this one. You and your staff provided a perfect atmosphere for learning. The instruction I received at A-1 Scuba will no doubt make me a better all around instructor. I had so much fun, I did not want it to end.
I have got to tell you dragging the others to A-1 scuba for training, which was available here in California, at first was not logical, but it was the correct decision, everyone was VERY happy we decided to come to Denver. Let stay in touch looking forward to seeing you again.
Steve
---
Butch,
Just wanted to take a moment to reflect on how much fun it was learning to 'scuba' dive from you. Both you and Kevin made floating under the water so easy.
Thanks so much for your excellent instruction! You are pretty fab and I'll keep you abreast of all my underwater adventures!
Abbey
---
Hey Butch,
Thanks again for the enjoyable informative (those words rarely go together) certification class.
Chris
---
Hello Tom & Louise
I just wanted to drop a quick note as you helped my husband, Brian, and I along on our diving certification this past year (we had Tom as our class instructor at A-1 last December and Louise at the Blue Hole for our open water in February).
Since then, we've done a few recreational dives in Hawaii, but we just got back from Guadalupe Island, Mexico where we spent a few days up close and personal with the Great Whites. It was a dream come true and we met a bunch of passionate divers from around the world who came to witness these magnificent sharks in person.
I can honestly say I feel very much at ease in the water now and we hope to take the advanced certification course sometime in the future. We'd like to do some more recreational dives in warm waters, but the live aboard we went on, the Nautilus Explorer, offers trips to nearby Soccorro Island to dive with more sharks, giant mantas and humpbacks. That's another adventure to work toward, but we'll definitely be returning to the waters of Guadalupe for shark season!
I wanted to thank the great instructors we had along the way to opening up a whole new world to us – thank you!
Christine H
---
Scott,
I wanted to let you know what a great job Fawn did with my Peak Performance Buoyancy course I attended last Sunday at the aquarium. This was a refresher course for me because I have had a few open water dives and have never quite been able to pin down the skills to control my buoyancy.
Fawn contacted me by phone to introduce herself before the course and what I'm sure should have been a short conversation turned into a thirty minute discussion. She listened to my entire story and what I was hoping to learn through this class. She provided me answers to all my questions and concerns. This helped me to feel encouraged that there was help for me out there and together we could figure it out.
Then when I arrived at the aquarium Sunday, I met a fresh, fun, instructor who again made me feel more at ease that this was going to be the training I really needed. Once we got into the water, she was patient and supportive to what was necessary for me to do to improve my skills. And by the end of the second dive I was controlling my buoyancy better than I ever have before.
I have a trip planned in three weeks and am looking forward to applying my newly learned skills.
So, I can't thank Fawn enough for her knowledge, patience, and encouraging words she has given me. She is a great instructor!
Deana V.
---
Hi A-1,
I just wanted to send a note to let you know that it has been over 2 weeks since I did my open dives at Chatfield, and I'm still talking about my diving certification. I came to your company from another local dive shop, where I had done my classes and pool dives. I cannot stress enough how much better of an experience I had with your company, and in particular with Louise.
I am not a strong water person, (although I've done my share of skydiving, repelling in jungle holes, adventure-type activities) and this was, in the beginning, more about conquering a fear than actually enjoying the experience.
Louise was a great teacher and instilled alot of confidence in me, and was so great about explaining things more than once if I requested, and made me feel very safe, so I could build my skills and my confidence level. It made all the difference, and really changed it from a challenge to a pleasure.
I have to say 'I get it' and I'm really looking forward to a dive vacation soon. It was a great experience, and I hope we get to take advantage of one of your dive packages soon.
Thanks again,
Julie R.
---
Dear A-1,
I just wanted to thank A-1 and our instructor Chris for the quality training and support in getting Jaden ready for this trip. He really enjoyed diving on the great barrier reef with his grandad. Moments like this are priceless.
Many thanks!
PK
---
Nathalie,
I really wanted to thank you for an amazing class and for opening the door to such a fun sport. We finished our open water in Hawaii and went on the night manta ray dive. In the process we saw white tip sharks, spotted eagle ray, many turtles, and a pod of spinner dolphins. We also met Keller, from Jack's Dive Locker, who cut the line and hook from the dolphin on the YouTube video.
After all the fun we've had we were thinking of taking the advanced open water course. Since we're so comfortable with you, I was wondering if you might teach that class? You really impacted my daughter and she speaks of you often. Thanks again for the tremendous experience and maybe we willl see you soon.
Kelley
---
Dear Lynn, Scott, and Carol,
Thank you all for another wonderful trip to Curacao with our Divers with Disabilities group. Although this is our fourth such trip, every time I come away marveling at the courage of the divers with physical challenges. To go into the water with only limited ability to maintain buoyancy and ear clearing and to trust another individual with those essential functions truly demonstrates courage and faith. I have nothing but admiration for every one of the people who get lifted out of a wheel chair and into the ocean.
As you know, this was my husband's first trip as a fulltime support diver. It brought tears to my eyes to watch this frequently impatient man slow down and work with his disabled buddy. I was so proud of his kinder, gentler side.
As always, you three went out of your way to make certain we had a fun time, all the while dealing with equipment problems and idiots who clear their mask with fruit punch. You instill in the group a spirit of comradeship and make even this elderly diver want to keep going back. Thank you so much!
All the best,
Abby
---
Dear Scott,
Thank you so much for the amazing weekend A-1 Scuba made possible for our Camp Riley divers in February of this year. Your team's overwhelming generosity and impressive expertise made the weekend possible for them. Their diving certification was truly a lifetime achievement.
For individuals with physical disabilities, life can often seem full of obstacles. It was hard for our Riley campers to believe that it would be possible that they could ever scuba dive much less become certified. Those moments of watching them gain confidence and achieve that goal are ones that all of us will always treasure.
All of us at Riley Children's Foundation are deeply grateful that they and you made this experience possible. We look forward to building our partnership in the years to come.
Regards,
Maureen
Maureen Manier
Vice President, Communications and Marketing
Riley Children's Foundation
RileyKids.org
---
Hi Stosh!
My husband and I went through the PADI online course and then classes with you at A-1 Scuba for our certification. (We were the class wondering if we'd make it due to the major snowstorm) We completed our class sessions and dives 1 and 2 with you in early March (at the Denver Aquarium). We then went on to complete our open water dives 3 & 4 in South Florida prior to our trip to the Galapagos Islands.
Though we already knew we had received a high quality education in diving with you, it was clearly highlighted by our experiences in South Florida when we completed our open water certification that you went above and beyond the required criteria and even better prepared us to be open water divers. When we joined an existing class of the same level as us for open water dives 3 & 4 in Florida, it was very apparent to us that our education from you far exceeded the people in the class in Florida. Many of the skills that we knew and were drilled into us in the training you provided were still unclear to the other divers that we joined in that location (particularly the dive flexible skills). It was clear to us that our training was far superior to what the class was receiving. (We are NOT trying to undermine or belittle the other dive center's training by any means, they were good to work with as well!). However, when we were the only ones able to answer any diving questions and we (the only few!) were completely comfortable during the dive (and we actually had horrible conditions at sea!–they almost canceled the dive due to rough seas and one gentleman needed to be taken to the hospital after very rough sea conditions), so–we realized how amazing our training was.
I just want to recognize that the we honestly believe the training you provided us with truly prepared us for our diving experiences we have had since. We dove in Fort Lauderdale and the Galapagos Islands and we know that we were well prepared for our diving experiences. In contrast, we feel the other people we joined in certification were not nearly as well prepared as you helped us to be. Because of this, our trip to the Galapagos was amazing became we were already prepared and felt on par with more experienced divers. You truly enhanced our diving experience. Thank you for the preparedness–for one "nervous" diver, your help and training made all the difference. We felt SO incredibly prepared and SAFE–we knew what to do no matter what occurred!!
Thank you for your attention to detail, for a great learning experience, and the confidence to make diving safe and enjoyable. We are actually hoping to take the Nitrox diving class next, so we hope to be able to work with you (Stosh) again.
Thank you for a fabulous learning experience and for preparing us to be SAFE divers. We truly appreciate your attention to details and to safely!
Thank you.
Sincerely,
Bonnie
---
Rita,
Thank you again for Katja's diving experience today. She was just beaming afterwards and loved the entire experience. She is so excited to complete her remaining dives this summer and is a testament to you and the rest of the A-1 Scuba team.
Thank you again,
Dooley G.
---
Dear A-1,
I wanted to take a second to let you know what a wonderful job Tammi did in preparing my daughter Morgan. We are in Maui right now and she passed her open water certification with ease. Tell her thank you for being great with Morgan.
Thank you Scott and Carol for all of the time you spent working with us.
Jeff and I came away from your HSA instructor/dive buddy course with our minds going faster than our jet plane coming home! As instructors, we see people grow every day, but this class takes the growth and excitement to a whole new level for someone that wouldn't otherwise have the opportunity of life as WE see it or get back into the life that they once had as previous divers. We never know what life is going to deal us. I once read that "if you haven't LEARNED something new and haven't HELPED someone, your days work isn't finished!"
On that note, thank you again Scott and Carol. We look forward to working with the VA in Portland and will stay in touch.
Jim and Jeff
Portland Oregon
---
Dear Scott,
I am writing to express appreciation on behalf of Riley Children's Foundation for the amazing partnership we enjoyed with the Denver Downtown Aquarium that enabled our Camp Riley students and members of our staff to become certified. During an incredibly busy weekend for the aquarium (President's Day) Dive Safety Officer,Todd, and the A-1 Scuba team handled every detail flawlessly. They ensured that our divers were safe and had the experience of a lifetime.
For individuals with physical disabilities, life can often seem full of obstacles. It was hard for our Riley campers to believe that it would be possible that they could ever scuba dive much less become certified. Those moments of watching them gain confidence and achieve that goal are ones that all of us will always treasure. There were cheers and many tears as we watched them succeed and then gain the confidence to be able to relax and enjoy the beauty of the Denver Aquarium.
I would like also to acknowledge Todd and Shane. Their diving expertise was complemented by their commitment to these young people's experience. Again, it was a weekend crowded with many activities, but Todd and Shane and the rest of the A-1 and Aquarium staff always made sure our group received their full attention and had the highest quality of experience. They were great for me to work with in advance and during the weekend.
All of us at Riley Children's Foundation are deeply grateful that they and you made this experience possible. We have been singing the praises of Denver Aquarium and A1 Scuba to everyone as we have shared stories from this event. We look forward to building our partnership in the years to come.
Regards,
Maureen Manier
Vice President, Communications and Marketing
Riley Children's Foundation
30 South Meridian, Suite 200
Indianapolis, IN 46204
317.634.4474
RileyKids.org
---
Drive and Dive in the mile high city…by Cody Unser
You know that feeling you get when you see yourself in others? When something you've dreamt about finally comes true? Well, I've been talking to Scott Taylor, owner of A-1 Scuba & Travel Aquatics Center, for years about my Adaptive SCUBA Program and the Dive Team I started, Operation Deep Down, and how The Cody Unser First Step Foundation has been helping Indianapolis based Riley Children's Foundation, serve disabled kids. We've been providing SCUBA Introductions to Riley Kids at Bradford Woods for the past several years; our program has created some incredible opportunities for young adults and their desire for adventure. Anyways, there I was in Denver watching the Riley Kids follow my dream, to get SCUBA Certified.
We began their training 6 months ago, and now here we were in a three-way partnership with A-1 Scuba & Travel Aquatics Center and the Denver Downtown Aquarium, finishing up their PADI Scuba Diver certification amongst reef fishes, moray eels, and sea turtles. Watching from behind the glass I got that feeling again, of accomplishing something I've wanted for a long time. The kids are full of fortitude, you can tell they want this, and you see it when they begin to feel the "sweet spot" in their new found buoyancy. To celebrate, the Riley Kids and A-1 crew did a "bonus dive" in the "Dive With The Fish" site and my family gathered to get ready for our "Dive With The Sharks" experience….. all compliments of A-1 Scuba and the Downtown Aquarium. My cousin Johnny Unser, my brother Joe, and I don our gear and here we go, one for all and all for one (except my Dad, Al Unser Jr., who was watching topside). The Shark dive was exhilarating. I look forward to an annual trek to Denver to collaborate with our partners!
I really loved that Scott, Lynn, Shane and Wendie took the time to come stand on the gas at the Unser Racing and Entertainment Center Friday night, for our Oil&Water go-Kart challenge, to represent the hammerhead side of our Drive & Dive weekend. I also want to thank the Denver Downtown Aquarium for allowing us to park my dad's IROC race car and Cufsf new adaptive go-kart in front of the aquarium. It showed the public yet another way to include us motorheads with physical challenges.
As always Big fish Kisses to A-1 Scuba & Travel Aquatics Center and the Denver Downtown Aquarium. It was a very special weekend for me and the Unser family…XOXO
Cody Unser
---
Dear Lynn and Scott,
My wife and I just came back from a trip to Anthony's Key Resort followed by several days in Honduras visiting Mayan ruins and a wonderful bird park in Copan. We had a great time!
Gwen Wells of your travel agency made all the arrangements. We wanted to let you know that we appreciate her efforts and want to extend our thank for all her hard work.
Thanks again Gwen,
Albert and Donna
---
Scott,
You, your team and your facilities are World Class!
Richard Franklin (father of Missy Franklin)
Dear A1 Scuba,
We had an amazing trip. The property was like paradise and the guidance and attention to detail that we got from Katie made our vacation unforgettable.
We will look forward to our next adventure with A1 Scuba and Travel. Thanks for everything!
Amy D
---
Dear A1,
We are really looking forward to another A-1 group trip because we have always had a great time. The group leaders as well as your travel staff have made these trips a true vacation, everything is taken care at all ends from start to finish.
Ruth & Pete
---
Hi Scott,
Gerry here from this summer's IDC. I hope that you enjoy reading this note as much as I am writing and sending it. You'd mentioned that you welcomed input regarding teaching related items, and I felt I had to send this note to thank you for your time and effort. I'd come down there originally wanting to shore up teaching techniques and wanting to learn to be a more effective instructor. Implementing the things we'd talked about has had positive results to say the least. I also realize how self-evident much of this is, and all I can really say is "duh" and give you a free pass for a headslap the next time you see me for not figuring much of this out on my own.
I've always believed that instructors with their hearts in the right place take some pride in being able to help students to get past problems and issues in their skills development. The part I was missing is that if as an instructor, I spend more time analyzing my presentation results and introducing better presentation techniques, the students won't have many of the problems and issues to begin with.
Hence the "DUH".
I'm finding that the presentations, if done to a higher standard and with demonstrations that involve more fun under water communication, are far more effective. That being said, I realize that your own trip down the road to Damascus probably happened long ago, and none of this is really news to you.
Thanks for taking the time to get some of these things across to me. As I said, I wanted to become a more effective instructor, and I think if I continue on the path I'm on that I will no doubt accomplish that goal. The results are already starting to show. Managing larger groups is easier. Numbers of students who don't seem to get it are dropping. Students seem more relaxed, and they seem to have more fun. And they seem to show a higher mastery of skills in a shorter overall time frame, leaving some pool time for games, fun and buoyancy skills.
I will be back in touch in the not too distant future. I would like to audit an IDC start to finish again. They are a lot of work for everyone concerned, it's true, but the net result is that open water and more advanced students end up with a whole lot more than they would otherwise get, and I believe ultimately that is what we're here for.
Thanks again,
Gerhard M.
PADI IDC Staff Instructor
---
Dear Scott,
I thoroughly enjoyed taking part in the IE, as well as the IDC. It is an amazing program you have developed. I am blown away more than ever at how well prepared A-1 candidates are in comparison with those from other shops. This, (of course!), creates many more questions in my mind!!! HA!
I appreciate all of the effort you put into everything you do!
Carol
---
Dear Scott,
Thank you!
I think you are an amazing person and a tremendous asset to the diving community. For the past nine years I have been a customer of A-1, have taken all my certification classes through A-1 (except a few specialty classes taken while on dive trips) and have enjoyed friendship with the A-1 family. It was an honor and pleasure to get to know you better and to be your IC student. I am excited and look forward to working as an assistant and, eventually, an instructor with you and the team.
I saw a difference in the level of instruction and preparation that Jen, Jim and I had received compared to the rest of the IC candidates. And, while we were nervous as hell, I felt like we could pull off whatever was put before us because of your guidance and preparation.
Beyond that, I commented to Jim last last night that your commitment and involvement in the IE process was exceptional. Thanks to you and Lynn for all the time and effort that went into organizing and hosting the two-day event — for the constant encouragement, hosting the food, and attention to the little things – like the Olympic medals which were a fun touch. We recognized and appreciated that you gave up your entire weekend for this event and, even though you are probably sitting there thinking it would be expected, we were grateful you were there and we are grateful for all the things you did to make it special.
You said that the PADI Examiner, LeRoy, has a calming effect as much as any examiner can have. I agree, but I was actually calmer when I would look back from what we were doing and could see my teacher, Scott, sitting right there. Scott, I am proud of YOU and A-1 and I am so glad to be a part of your group!
Thank you for the opportunities!
Julie
---
Dear A-1,
One of the students in our Leadership program and his family were certified through your shop. He speaks so highly of his experience at A-1 & I concur!! Your operation is top-notch. I've felt this way for many years & I think it's time to tell you how richly you, A-1, & the sport of diving have blessed our lives on so many levels.
Thank you & God bless!
Twila
---
Thanks so much Storm!!
Your tips and the gear you sold us have led to an awesome time snorkeling here in Kauai!! It's all worked perfectly and couldn't have been a better experience.
Thank you again for all your help!
Albert and Rachel
---
Hi Joanne!
I just wanted to thank you personally for a great class. I went into the class to support Emma's adventure and you really made me feel at ease, the nicest thing of all was even on the last day you went out of your way to see how I was doing.
You also were so kind to Emma making sure she understood your explanations and taking the time to repeat certain skills with her, I really appreciated you time and attention to her safety.
You are a FANTASTIC instructor, easy to follow, supportive and encourage question for deeper learning. It is apparent that you love teaching scuba diving — you were great!
Thanks for all the support!
Paula
---
From winner's of a Grand prize at the 2011 A-1 May Scuba Event
March 8, 2012
Dear Lynn and Scott,
What a wonderful experience Dave and I enjoyed this past week. The trip to Atlantis Resorts, Dumaguete, was truly a visit to paradise. We arrived on Saturday, February 25 and cannot believe how quickly the week flew by. From the moment of our arrival to the time of departure the beautiful surroundings and friendly staff made sure that this would be a memory of a lifetime. Each staff person encounter took the time to say hello and ask about our visit. The manager, Richard, was seen everywhere helping guests and overseeing staff. The Dive Masters were knowledgeable, friendly and fun to be around. Dave mentioned he was looking forward to seeing certain fish, and by the end of the day, they had found about half of them. Jess and Weng took pity on Dave, and made sure that I had a hand to hold and was safe while Dave was photographing our adventure under the water.
The Restaurant sat on the beach, so wave watching was as relaxing as enjoying the wonderful meals. The ladies who worked in Toko's were sweet and the service was excellent. Each meal was delicious. Our complements to the Chef!
Even the gardener is to be commended for his customer service. He saw me admiring the Star Flower Tree each morning and took the time to tell me about it and some of the other plantings. He was forever busy sweeping up the leaves that fall overnight to keep the grounds beautiful. And beautiful they were, always something pretty to look at when the eyes were not on the sea.
On Friday, we requested if we could see the waterfalls or Twin Lakes. Richard and Edward went to work to see what could be arranged. Because of recent weather events, we were lucky enough to be able to go to Twin Lakes. OH MY, what a special and wonderful experience that was! We got to see another side of the island and it was a fantastic side trip. Edward was our guide and Billy was the driver. They took the time to make the day memorable and very special. I cannot describe how beautiful the lake and the surrounding scenery was that day.
Atlantis' tag line of "Arrive as a Guest – Leave as a Friend" certainly sums up the visit with them. When our time to leave came, we were sad. The week went by way too fast and suddenly we had to say good bye to some very nice people. The staff and resort are really a cut above and set the bar extremely high for any other to compete with.
Thank you so much for the chance to be able to have this experience through winning the trip at the 2011 May Sale. It was a chance of a lifetime and we had the time of our lives.
Sincerely,
Patty & Dave
---
Bob,
I dropped off my camera and underwater housing for my Sea Life DC 1200 over the weekend and was asked to provide a receipt from the vendor from whom I purchased the camera. Please find the enclosed receipt, which should prove it was purchased from a Sea Life approved vendor. I appreciate your assistance with returning this for warranty repair/replacement. On a side note, I apologize for purchasing this online rather than directly from A-1 (it was an online impulse buy). The service A-1 showed me over the weekend by helping me out with the camera and also my other in store purchases for my upcoming trip demonstrates the value of trusting a local dive shop (not to mention you guys taught me how to breathe underwater!) See you guys soon.
Sincerely,
Mike
There's No Place Like A-1
---
Hi Scott,
Jay and I are going to Cancun just after Thanksgiving, and we'll dive one day with Dive Paradise in Cozumel. Since it's been 3-1/2 years since we've blown bubbles, we always like to get in a pool in our gear to re-familiarize ourselves with the basics so we feel confident when we drift dive in the ocean. Since we now live at the ends of the earth I found another dive shop and they said they had a pool attached that we could use.
Scott, I simply CANNOT describe how AWFUL this experience was…
As we drove away, Jay said, "Well…there's just no place like A-1 is there?" NOPE! We're sorry we're 10 hours away from the BEST dive shop in the world; but it's ALWAYS a pleasure to drop by, visit with you and Lynn, and buy a few things when we come to visit.
Thanks, again, for making sure that members of our family have a QUALITY dive training experience while they're learning how to do it safely. I think we'll have another couple of grandchildren checking in with you for their beginning scuba training next summer. I know you'll take good care of them.
Best wishes and lots of love always,
Sandra
Click here to read the entire story
---
Hi Dave,
We had an absolute blast in your class. Tony hasn't had that much fun in a long time. We are so looking forward to our open dives. I was sooooo nervous on Friday night and you absolutely put me at ease very quickly. You are a wonderful, encouraging and gracious teacher!!
Many Blessings to you!!
Laura V.
---
Hi Lynn and Scott,
First I wanted to say thank you for the awesome trip to Roatan and staying at Anthony's Key Resort. This was my first real dive trip and I was extremely lucky to win this during your May sale. Everything on this trip was perfect except the airline forgetting my dive gear in Atlanta. The staff at AKR heard what had happened and basically gave the equipment I needed to do some diving until my equipment showed up the following day at no charge. Not only was I provided equipment to use but they also took care of getting my bag at the airport and bringing it to my room. I have never had any resort or any place I've stayed at be so accommodating. The diving was amazing the entire week and not once did I think about calling work to ask how things are going without me!
Prior to my vacation I was working with Shane on something I had dreamed of doing and that was shooting underwater video. Shane was great to work with and helped me get what I was really looking for as well as show me some tricks. Not only did I get something that will last me quite a while but it also shot some incredible video. Let's just say everyone on the dive boat was jealous on the quality of footage.
Everyone I have worked with at A1 has been very professional and courteous when I've asked questions, needed some advice or was looking to purchase something. I've recommended A1 to several of my friends who are looking at trying scuba for the first time.
Once again THANK YOU very much for everything!
Sincerely,
David
---
Dear A 1,
I just finished my PADI Rescue Diver Course this Sunday. Just thought I would let you know how pleased I was to have taken the course and particularly with the Instructor Fawn Hansen.
She is thorough, very good to deal with and committed to her students learning and perfecting the necessary skills. She is indeed dedicated and you are fortunate to have such a Good employee.
Thank You,
Roger P.
Dear A1 Scuba,
Just wanted to drop you an email and let you know that this past friday my wife Sylvia and I had the opportunity to dive with the sharks at the Downtown Aquarium. We met Kate outside, discussed the dive with her and were ready to go.
I wanted to let you know that the dive was absolutely spectacular and Kate was absolutely fantastic! The dive was easy and lots of fun. Sharks are such incredible animals. Kate was professional, fun, and we would dive with her any time – she's a keeper.
We had a blast on the dive and definitely recommend it. It was well worth it.
Thanks again,
Manny
---
Hello A-1,
Sarah and Kelly had a wonderful time on their dives today. They really had a positive experience for their first open water dives. Doug and I were so pleased about the whole morning. The girls said they loved seeing the fish swim so close to them up close and personal.
I have been around alot of scuba instructors. You have an amazing ability to welcome people to the world of diving. From my first visit to your shop, to todays dives you have been friendly, professional, encouraging and a lot of fun.
On behalf of my whole family I want to thank you for welcoming Kelly and Sarah to Scuba diving.
Christine H.
---
Hi Louise,
Sorry we could not stick around to say goodbye we had to get on the road to get Christina back to college. I wanted to send you an email to tell you thank you, Carol and Matt for a great weekend.
She had an amazing time and learned alot from you guys this weekend. She talked all the way home about how much fun scuba diving is and looks forward to working on her advanced diver certification. I think I'm even brave enough now to consider getting certified.
Again please tell everyone a big thank you!!!!!!
Christina and Kim
---
Scott,
I just read about your induction into the Disabled Divers Hall of Fame. I want to say congratulations, it's well deserved.
I'm proud to have been part of the A-1 family of diver graduates and still reflect upon my initial training (OW thru DM) at A-1. You're personal attention and guidance in the classes I had you for my instructor still go with me in my own continuing career as a PADI instructor. I've always regarded the training I received at A-1 as the best anyone can receive and it's due mainly to you and the staff you maintain at A-1.
Your background in physical therapy and as a scuba professional has lead you to this point and this particular recognition is long overdue. This along with all the other contributions you've given to the scuba industry, is something you can be very proud of and something everyone should look at when thinking about their own career and where it can take them if they are fortunate enough to be able to work in this industry.
I wish we could all do as much.
All the best,
Mike D.
PADI MSDT
---
Hi Scott,
I wanted to thank you for everything you did for us in the IDC, including your dedication and enthusiasm. It was really special.
If all my teachers in Israel and the U.S. would have wanted my success, with the same enthusiasm and passion you had, I would have been a better man – that's how I feel.
Thanks again,
Shmulik B.
---
Thank you A-1 Scuba for the opportunity to complete two of the four required open water dives at the Downtown Denver Aquarium. It was an absolutely amazing and fun adventure!
The experienced, helpful, and gracious dive instructors and aquarium personnel made the certification process a wonderful experience for me. Plus, getting two of the dives completed just 10 minutes from my home, made it very easy and less time consuming to complete my last two required open water dives on my vacation in the Dominican Republic.
Thank you A-1 Scuba for giving me the knowledge and skills needed to learn how to safely Scuba dive.
Best Regards,
Christine
---
Dear A-1 Scuba,
My SCUBA certification in the inaugural program of completing the first two open water dives in the Downtown Denver Aquarium was a great and wonder-filled experience!
It was a great "jump start" for the ocean and diving with the fish in the aquarium was awesome!
Not only did it allow me to complete my first two open water dives in a comfortable environment, it allowed me to get certified the first morning of my dive trip!
Thanks for making my certification experience so easy and fun.
Kevin
---
Dear A-1 Scuba,
No problems and no surprises on our vacation. Every aspect of our vacation was great and the trip exceeded our expectations. It was one of the most delightful vacations I have had in years.
We couldn't have asked for more, Cozumel was beautiful and we enjoyed the convenience of staying at Hotel Cozumel. Dive Paradise treated us so good and their dive masters were fantastic.
We will use A-1 Scuba & Travel Center in the future to book our vacations.
Katie was the best!
Dwight
---
Dear A-1 Scuba,
Thank you so much for doing a wonderful job teaching us so well.
I was a little nervous for several of the skills, and you helped me to feel much more comfortable under water.
Thank you so much for being so dedicated.
Sincerely,
Sam S.
---
To Katie, our travel agent expert!
Thank you for all your help in getting us into the Iberostar Cozumel for the 4 night package including New Years Eve.
We had a fantastic time: great diving, food, room, beach volleyball…we hope your 2011 is full of His peace and joy!
Dan & Ange
---
Dear A-1 Scuba,
My name is Becki and I just did my pool dives this weekend at A1. I just wanted to write a note and let you know how happy I was with all of the staff I met this weekend. Everything far exceeded my expectations.
First of all, there were only two people scheduled for my class and one of them canceled. I was very happy that instead of canceling the whole weekend, I just got to have a class myself. Jeff McGhee was my instructor and I really couldn't have asked for a better teacher. I have had some bad experiences in the water previously, and was a little nervous about some of the tasks I knew I would have to complete. Jeff had me at ease after about five minutes in the water though. He explained everything extremely clearly and did excellent demonstrations. I felt very safe with everything that we were doing and was very excited to finish up everything in one weekend. I had a lot of questions and he was able to answer all of them.
I also wanted to mention that I was very pleased with the experience I had in the retail shop as well. I wanted to buy my snorkel, fins and mask so that I had an opportunity to try them out before my trip. I really didn't know much about buying equipment though. Ryan did a great job of showing me and explaining to me all of my options and helping me narrow the choices down. It was a pretty big purchase for me so I had lots and lots of questions, and he answered them all very patiently.
Everyone that I met this weekend was extremely friendly and willing to offer advice and help. You could really tell they had a passion for the sport and it got me very excited about it as well. I can't wait to finish my certification now. Once I do, I will be sure to return to A1 for future classes and equipment needs.
Thanks for everything,
Becki
---
Dear Wendie,
Please pass onto my wonderful instructors – Carol, Louise, Scott, and especially Peter King.
Went to Free Port Bahamas dived into the pygmy caves saw 3 sharks and a eel, then dived shallower second dive fresh farm area held a baby starfish and several schools of fish.
I'd never have seen any of these critters had it not been for them. Loved it!!!!!!
Lori
---
Hi A-1!
I have now taken scuba classes with three different dive shops… the ones I took with A-1 were by far the best! Sure, the classes were fun, but most importantly, I actually learned a lot.
Your classes really helped making me a much more confident and independent diver. So, thank you A-1, and special thanks to your outstanding instructors, Louise (rescue) and Carol and Joanne (adventure last year).
Cheers,
Ulli
---
Hi Doug,
I wanted to thank you and Bruce for your outstanding instruction in our recent rescue class.
This is the best PADI class that I have taken so far. I appreciated the opportunity to practice the skills multiple times, and your breakdown and analysis of our efforts with tips to improve on our skills made me a better and more confident diver as a result. I would definitely recommend this class, and you as an instructor to anyone. Once again, many thanks, and hope to see you again in the future.
David
---
A review recently posted on YELP
This place is a Denver institution and beloved by many Denver residents. How has no one reviewed it before?!
My boyfriend bought me scuba diving lessons for my birthday, which is how I came to fall in love with this place. He was very picky about the scuba center that he went through, and after lots of calls and visits to shops all over the Denver area, he finally settled on A-1.After taking the class, I can see why he picked A-1.
I had an incredibly positive experience with my classes. Our instructor Joanne was top-notch and very energetic, and definitely knew her stuff. Everyone else who works there is super-friendly and incredibly knowledgeable, and can answer any and all questions you have. On top of that, their prices on their equipment are VERY fair, and they even give a discount to people who take their scuba classes through A-1. They have an extensive shop – the biggest I have seen in Denver – and their own pool that they conduct confined water dives in.
They also have THE best repair shop in the area, and even repair gear sent in from other states who are not equipped with the correct tools.
On top of that, they have a travel center full of lovely ladies who will coordinate a trip for you, whether scuba or otherwise. And every couple of months the shop does a large scuba trip that is usually all-inclusive and reasonably priced.
Once my BF and I save up enough money, we are definitely doing a trip through A-1. And I wouldn't buy my gear anywhere else. Or take scuba classes anywhere else. Really, it's the only scuba shop I could ever need! They even put out snacks for customers, like brownies and lemonade 🙂 That's just how nice and accommodating they are!
Amanda G.
Durango, CO
---
Dear A1 Scuba,
My name is Patty. This past June, I participated in the scuba certification program and received my initial scuba license. I am writing you this letter to thank you, more than I can say, for helping me 'slay a dragon" and begin new adventures of a life time.
When I was about 18 (many years ago), I was initially certified. The experience, though, was incredibly stressful and adversarial. It was almost as if 'you all will get certified, but not if we can help it.' It was a horrible experience for me, and I swore I would never go scuba diving. Thus, when my husband suggested last spring that I become re-certified, I was filled with dread. It was only my love of snorkeling and beaches across the world that led me to your door.
In class, Aaron, despite my occasional late night whining, insisted we cover every skill thoroughly. Believe me, when I took my first 'real dives" in Tahiti, I understood why he was so insistently thorough. Although I was nervous, I knew just what to do and felt pretty darned confident, if I must say so myself.
Stosh, who supervised my open water dives at Chatfield, was equally helpful. He also worked with me in the pool, one-to-one, to 'fine tune' some skills I thought I was weaker in. Stosh was funny, professional, and very supportive.
Finally, Katie (cashier Katie) was really great in helping me pick out my equipment to buy. She spent a very long time with me and, again, when I was to Tahiti, I was so glad I picked the equipment I did. Katy (in travel) was also very helpful in hooking me up with 'Bathy's in Tahiti.'
It is late at night, and this letter doesn't do justice to the people at A-1 who have worked with me to bring me to this point. I just want, though, to let you and to let them know what a great job they did with me. On my last dive in Tahiti, I was diving (62 feet down, I'll tell you!) in a place called 'The Rose Garden.' At my feet was a tremendous expanse of overlaying big darkish red-maroon 'petals' and in front of me was a wall of deep blue. A black tipped shark swam right past me…all I could do was hover there (thanks Aaron!) and say into my regulator, over and over, 'Wow! Wow! And, of course, I thought of you all.
So thank you more than you could know, for a life of prospective new adventures in my favorite place, the ocean. And thank you also for helping replace an extremely unpleasant memory with such hard-earned, successful, and happy memories.
Sincerely,
Patty
---
Scott and Lynn,
My girlfriend Amy and I recently did our open water certification (finished August 7th) with Joanne and Carol (and Jade, who assisted on the weekend pool dives). We were getting the certifications in preparation for a diving trip to Grand Cayman and Roatan at the end of last month, and since that trip it's resonated with both of us just how good the training with A1 was.
I don't think until you get out there with other divers that it really sinks in — I mean we certainly thought everyone at A1 was friendly, that the instructors were awesome and fun, and that after the class we had the basics down enough to take our first tentative steps into the world of diving, but the real proof of the education was in seeing the disparity between ourselves and others when we spent that week in the Caribbean. Having now not only done so but also getting to see some of the risks of diving first-hand (we saw someone run out of air in Roatan — thankfully he was OK) and the random silly mistakes other newly-certified divers were making, even at our beginner level the difference between our preparation and that of others was readily apparent. In fact it was somewhat shocking, after only 4 dives in 2 days "in the real world," to see so many things go wrong for other divers that we, with nothing but our OW certs in our hands, were more than able to deal with.
Given that this isn't the safest of all recreational activities I think at a minimum a "thank you" is due for that, as well as letting you know how much we've appreciated the experiences with your instructors and the rest of the staff we've met. Their efforts have most certainly created two loyal customers — as Ryan will attest to, since we're already signed up for AOW in October, the November Cozumel trip with the shop, and mapping out our gear purchases with him for the next six months.
Thanks again,
Rich & Amy
---
Greetings Carol & Joanne,
Christian and I would like to personally thank you again for helping us achieve something that we can do together through years to come. I wanted to learn and do scuba diving since I was eight living on a lake. It was on my bucket list for years. I am a pretty active gent who loves traveling, long distance cycling, skiing, snowboarding, fly-fishing, backpacking, snow-caving and just being outdoors.
I have for years sought out an activity that Christian has a interest and /or passion that we can do together, especially now since he is of college age and has other life pursuits. I do work around the world, with some extended stays I can now get him to jump on plane, do something that we have a passion for, and spend some quality time between son and father. He is so jazzed!
So thanks again to your skilled and enthusiastic training sessions to you both, Dan Niblick (class room / confined instructor), and the A-1 staff.
---
Bram and Christian
Just wanted to send an e-mail about the great service I received today. With the assistance of your employee Ryan, I was able to purchase my first set of scuba gear. Ryan was exceptionally helpful. I can't tell you how much I appreciated his knowledge and customer service skills.
Thanks for the help Ryan!
Cory
---
Kudos to you and your band of pirates from A-1 Scuba! What a time we had at the aquarium! Thanks to you, Carol, Joanne, Jack, Stacey, Stoch, Fawn & Shane (Louise was in there some place). I know the divers with disabilities (Shannon, Matt, and Pat) were thrilled, but so were all the family members (Julie, Jud, Rose, Don and Tracey) and the hundreds of kids, parents and families that wandered by watching all the fun. If you haven't been down to the tunnel to watch yourself, you should. A-1 Divers ARE THE ATTRACTION, not the fish. The divers with disabilities are truly awe inspiring.
Jud Williams
---
Dear Scott, Please allow me to take this opportunity to let you know how pleased I am with this whole new experience called Diving. I came to you on a recommendation (only given to me because you were close to my home and the person I spoke with drives by every day) to learn to dive. I did NOT take an "intro" to scuba but went for the whole ball of wax and got the entire family (confined water) certified (all 4 of us, including my 13 & 10 year old). Your entire staff there was nothing but pleasant to work with.
Being new to the sport, I actually expected a to have bit of an inferiority complex when I first walked in, but they never once made me feel like I didn't really belong in your shop since I was a "newbie" . So we were in class with Rita, who incidentally, deserves a Nobel prize for her patience and dedication to getting us (especially my 10 year old) over the hurdle of the pool certification, when you walked in and started asking the class questions. You asked my family if we were going to do our open water with you. When I told you we were planning on doing it on our vacation in Hawai'i, you immediately recommended Jack's Diving Locker in Kona. After completing our course there, before leaving the following week on our trip, I scheduled our open water dives with Jack's. I must thank you for the recommendation, because our experience there couldn't have been better. We all successfully completed our certification and are now new members of the diving community! I look forward to going out on many more dives in the near future, and hope to participate in some of your trips as well.
Your company and also your recommendations have created an experience that anyone wanting to give diving a try could only dream of having. I have started off on the right foot and that is always what we hope for in any new adventure. I can honestly say I have spent larger amounts of money on things that really were bad to start and have been turned off from those things because of that first impression, regardless of the costs. Granted diving is extremely expensive but because of your way of doing business, I am much more at ease spending the money (especially in your shop), regardless. In fact, don't be surprised to see me in future classes, such as instructor, adventure, etc! Thank you so much for all you have done and don't change a thing! Sincerely, Kevin Samson
---
Dear A-1,
THANK YOU! I certified in 2001 with you and since have gotten by Advanced Open water, under water photo and peak performance cards.
On my 57th dive off Cozumel last week I had my first regulator problem at 70 feet. It jammed up and then free-flowed putting me in a serious low air situation. All of the training kicked right into place – used the octopus, cleared the mask, got assistance from the dive master, gathered the group and made a safe ascent. I was ready for the afternoon dive with no reservations. I know these sorts of things happen, one trains for emergencies but it sure felt good confidently knowing just what to do.
Thank you for the life saving skills!
Sincerely, Donna
---
We recently got back from our first trip with Explorer Ventures on the Caribbean Explorer II Southern Bahamas trip (booked with A-1). Just wanted to let you know that we had a great time and really liked Explorer Ventures. The boat was not necessarily their most luxurious but the crew was great! Professional, Safety minded but still a lot of fun. Food was excellent, crew was always making sure you had everything you needed, great dive deck! They recognized people for new certifications and that Chris and I both passed our 100th dive while on board. They sent us an email asking for feedback upon coming home. They seem to really have every aspect of their business in order! We will definitely travel with them again and just wanted you to know! I already saw you have them listed for an upcoming Galapagos trip which we'll keep an eye out for!
Thanks A-1! Carolyn, we appreciated the card we received when we got back!
Andrea & Chris
---
Dear A-1,
I've done a couple of DSD outings and I've decided that it is time too move forward. My recent DSD experience in Belize prompted me to stop at A-1 on a Friday evening late in June. A nice lady by the name of Wendie did a great job of telling me about the open water course, she talked about the highly competent training staff, and she took the time to show me the training area; I was impressed. The next morning I returned and signed up with Ryan receiving nothing less than first class service; again I was impressed. I trust my course experience will go the same way. I can certainly see why A-1 is the oldest dive shop in Denver. So far job well done A-1! It early on but I can see that the staff and the facility clearly differentiate themselves from other dive shop facilities. I look forward to meeting you on Friday evening.
Best regards, Willie
---
Dear Wendie,
I just wanted to say how much I enjoyed the trip to St. Lucia. Never having gone on a group trip, I was a bit reluctant to go. I didn't know what to expect. But after having made this trip, I don't think I will hesitate to do it again.
I attribute a lot of that good time to you. You made me feel like we had been friends forever, not just new acquantances. I know it is your job to be nice to the people that you take on these trips, even old guys like me. But it felt, and i'm sure it was, much more genuine than just you doing your job. I like that about you. You, Kate, Steve, and (almost) everyone else, were great to spend time with. It was really a good group.
I thought 8 days might be too long, but now that I'm back to work (only 95 emails waiting on me) I think it went by way too fast. That says a lot about the terrific resort we stayed at, the diving, and the new friends I was with.
If you would like to have the post dive party at my house, we can do that. I wasn't sure if you were kidding about that or serious. I will provide the chocolate ice cream. You can mix the Bentleys. I'll see you at the shop — maybe in Curacao if my workload permits.
Thanks for everything.
Michael T.