Kids Only Scuba Course
---
FINALLY!!! A scuba course just for kids ages 10-14yrs.
Our kids only scuba course. This course is designed to use "kid-friendly" terms and has a maximum of 4 students. And the best part……….. SORRY, NO ADULTS ALLOWED!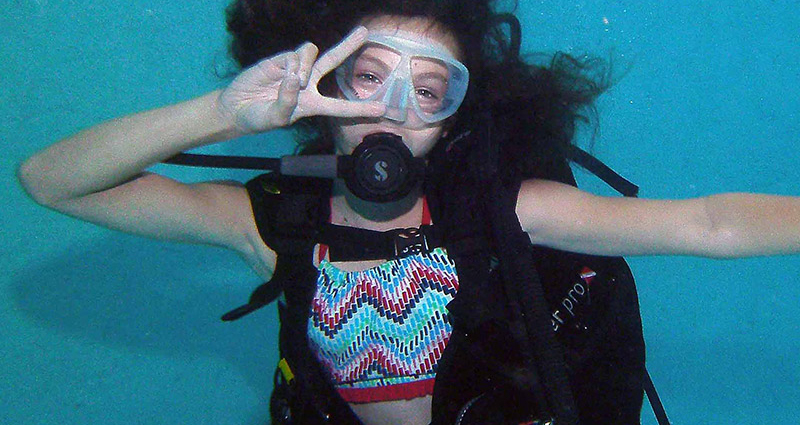 This is the same course as our beginning Open Water Certification course — the differences are:
Sorry, No adults allowed but they're welcome to watch from the pool balcony or deck.
The course is designed to interest and excite kids!
For kids ages 10 – 14
One additional night for extra practice and extra play to ensure your junior diver is comfortable and confident in their abilities.
Get your entire family involved in scuba diving so you can share extraordinary memories together and take your vacations to new depths!
---
Sign Up Now
$480
Max of 4 students (ages 10 to 14). Sorry, no adults allowed.
SCHEDULE
Wednesdays 4:30 – 8:30pm
Please Note: ending times may vary due to class size and participant proficiency
---
INCLUDES
Digital Online Manual
Four (onsite) pool and classroom sessions
Maximum of four students
Use of all snorkeling and scuba equipment at A-1
"Referral Diver" recognition (allows non-certified diver use of the A-1 pool for up to six months after the course) ask for details
160
Digital Online Materials
---
INCLUDES
Open Water Diver Course digital online manual
Free updates for life
Free digital online Snorkel Diver manual
Free digital online Try Freediving manual
Free digital online Try Scuba manual
Free digital Blue Oceans program
Canceling less than one week before the starting date of your course will result in a cancellation fee.
For any questions or concerns, please ask the Education Department at 303-789-2450 or email us at divers@a1scuba.com.