Scuba diving is an exciting activity for many people. It allows you to explore another world that you do not have access to in your everyday life. However, scuba diving poses many risks. Consider taking rescue diver courses. Diving without care may chance both accidents and injuries.
The rescue diver courses at A-1 Scuba helps equip the rescue diver to minimize stress, respond quickly to unexpected events, and make diving a safer activity for yourself and others as a rescue diver.
Why Become a Rescue Diver?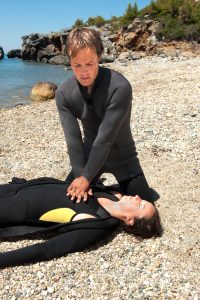 Being equipped to perform the tasks and responsibilities of a rescue diver is crucial to maintaining a safe diving environment and enhancing your experience in the water. Whether you want to be a better dive buddy, guide tourists through their first magical underwater journey, or want to enjoy the atmosphere with other mature divers, there is always a risk of injury or stress-induced danger.
When you take our rescue diver courses and Dive Emergency Management Provider course, you will be prepared to recognize stress in individuals, helping them work through their distress and manage emergencies that may require medical intervention and life-saving techniques. Our process includes water training exercises and reading our online digital program materials for each course.
Recognizing and Responding to Stress
It is important to recognize when stress on your mind and body may put you in danger. It is also critical to learn how to recognize this possibility in others. Whether encountering physical stress―like tiredness and cramping, or psychological stress―like anxiety and fear, responding with thoughtfulness rather than the instinct to panic minimizes personal risk.
The way you approach stress when diving is critical. Our course instructs you to proactively respond to distress in yourself and those you are diving with. Stress can too easily be a cause for preventable emergencies.
Managing Emergency Situations
Prevention of emergencies is the best way to manage diver safety. At A-1 Scuba, our stress and rescue diving course helps prevent emergencies by growing your understanding of safety procedures, proper equipment handling, and understanding important principles of diving.
At A-1 Scuba, we also prepare you for emergencies (i.e., having to administer oxygen, rescuing an unresponsive diver, or self-rescue). These preparations are especially necessary when an injury occurs and the diver requires medical attention. As a rescue diver, your ability to get another diver or yourself to safety and work alongside medical professionals could be the difference between life or death.
Learn to Manage High-Stress Diving Situations from Our Rescue Diver Courses
Increase your safety and the safety of those around you anytime you are in or near the water. With physical and intellectual training, the A-1 Scuba stress and rescue diver courses give you the tools to respond quickly and effectively to stress and emergency situations for yourself and others. Contact us today to find out when you can start our ultimate rescue diving course.