It's easy to get caught up in dreams of tropical fish and warm ocean breezes. Even so, seasoned divers know it's best to stay focused and check and double-check their preparations prior to pulling out their boarding pass and heading off for a tropical vacation. To that end, the following are some things you can do to get ready for your tropical diving vacation and your first beginner diving experience.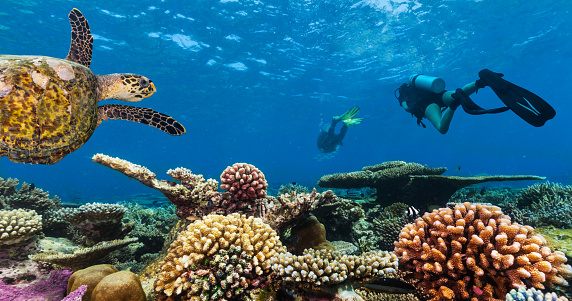 Get in Shape
Being fit and healthy will enhance the experience, but most importantly it can keep you safe. Swimming, jogging and doing calisthenics are fantastic activities to pursue in this regard. Getting healthy is the most important diving tips you can follow.
Change to Gear Up
Never count on being able to buy gear at your diving destination. It's best to go ready to dive with your own gear that fits properly, you have personally selected and checked out. If renting it is best to rent the gear before leaving home so you can try it out. Only rent from a reputable dive store.
Pack a Sun/Rash Guard Long-sleeve Shirt, Sunscreen and Sun Glasses
The ocean air gets chilly early in the morning and late at night. In between, it can be hot as the blazes and not every boat offers shelter from the sun. Sunscreen, a light sun/rash guard shirt, and sunglasses can keep you comfortable and prevent burns that can ruin a dive trip. In fact, there are quite a few other things you will definitely want to pack in your bag.
Research Your Dive Spots
Choose your tropical diving spots based on your skill level and the things you want to see and experience. It's always best to know what kind of currents, water temperature,  coral, fauna, flora and underwater sights you may encounter before you get your fins wet.
Prepare for Contingencies and Alternatives
Mother Nature doesn't always cooperate, and there are a hundred other things that can make a dive spot inaccessible. Always have a backup plan in place.
Be Certified and Learn More
Getting certified before you go means you don't have to waste time doing it during your vacation. This means more time in the water and more safe fun exploring the ocean. Take continuing dive courses to make sure you are ready to dive and have specialty training for different types of diving.
Make sure you have DAN Divers Insurance
You don't want to get caught "unprotected" in the event of a diving emergency. DAN Insurance is just what the doctor ordered.