The right gear can make all the difference between a bad day in the water and a dive beneath the waves that you'll never forget. Once you have your open water scuba lessons and certifications under your belt, it's time to stop by our on-site store and get the gear we recommend to enjoy your scuba hobby.
The Basics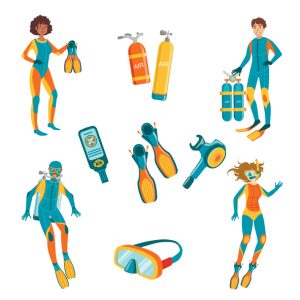 Mask: We suggest choosing a mask that fits comfortably and offers a considerable field of view. If you wear glasses, be sure to choose a mask designed to accept prescription lenses.
Fins: You want fins that have a blade size sufficient to propel you through the water at the speed you want to travel.
Snorkel: A snorkel that's the perfect length and is fitted with a comfortable mouthpiece is something we won't leave home without. Be certain to choose one with a water-blocking device that closes it when you dive below the waves.
Regulator: One of the most important pieces of equipment in any dive bag, choose a regulator that has a reputation for reliability and ease of operation.
Wetsuit: A well-fitting wetsuit keeps you warm and comfortable on your dive. Choose a suit that has the right neoprene thickness for the water temperatures you want to dive in.
SPG Gauge: This gauge tells you how much air you have left in the tank. It's a lifesaving piece of equipment, so we strongly suggest choosing a gauge that's easy to read and has a reliable safety rating.
Popular Add-Ons
Dive Computer: A dive computer makes it easy to track your dive without having to consult dive tables, depth gauges, etc.
Cutting Tool: No diver should ever go beneath the waves without a cutting tool. It can help untangle a diver from everything from fishing nets to stubborn seaweed.
Dive Light: Whether you are peeking under coral or looking into a shipwreck, a dive light makes it easy to see all the cool critters, day or night.
A-1 Scuba & Travel Aquatics Center
The team at A-1 Scuba & Travel Aquatics Center invites you to contact us to learn more about (link to each) scuba lessons, dive travel, aquarium programs, diving equipment, swimming lessons, repair services and adaptive diving programs.
Once your scuba lessons and certifications are squarely behind you, don't forget that we're a full-service travel agency and we would be delighted to book your private adventure or bring you along on one of our many group escorted trips to the high seas.