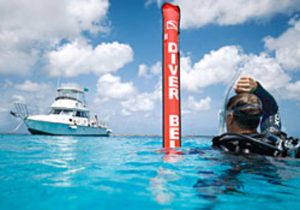 By Travis Marshall with Scuba Diving Magazine:
Getting separated from the from the boat is a diver's worst nightmare.  Even worse is seeing the boat, but the crew can't see you.  That's why all divers should have and know how to use surface signaling devices – they just might save your life.
1 BE SEEN AND HEARD Carry visual and audible signaling devices on every dive: at minimum, an inflatable signal tube and a whistle, but also consider a signal mirror, a strobe or light stick, and an air horn that connects to your low-pressure inflator hose.
2 DON'T WAIT TO DEPLOY if you can't reach the boat, deploy your signal tube immediately to get the crew's attention.  Then sound the alert with your whistle or air horn and flash the boat's wheelhouse repeatedly with your signal mirror.
3 HOLD IT HIGH The farther you are from the boat, the harder it is to be seen, especially in rough seas.  A signaling device that reaches high above the swells improves your chances.  That's why your signal tube should be at least 6 feet tall – 10 feet is even better.
4 MARK YOUR POSITION On some dives, especially live-boat drifts, you should tow a surface marker buoy.  This signal tube – attached to a line and reel – floats above you throughout your dive, allowing the captain to follow your position from a safe distance.
5 LIGHT UP THE NIGHT An emergency strobe or light stick is essential while night diving.  They can be attached to the end of your signal tube to make your more visible.  You can also signal the boat by waving your dive light side to side.