Night & Limited Visibility Diver Specialty Course in Denver
---
The A-1 Night & Limited Visibility Diver Program
Why take this course?
When you go night diving you'll see a whole new world. Even your local dive site takes on a new personality at night, as many underwater creatures and plant life (different from those you see during the day) are active at night. This Night & Limited Visibility Diver Program provides the skills and concepts required to safely and comfortably dive at night or in limited visibility conditions. Some of the ocean's most amazing creatures only come out at night, so your dive doesn't have to end when the sun goes down. You will learn how to enter and exit the water, use specialized equipment, how to control your buoyancy and how to communicate and dive with a buddy at night or in limited visibility. You'll learn night dive planning, organization, procedures, techniques and solutions to potential problems. Since many of the plants and animals you'll see are different, you'll also get an introduction to nocturnal aquatic life.
---
What You'll Learn
Prerequisites and Forms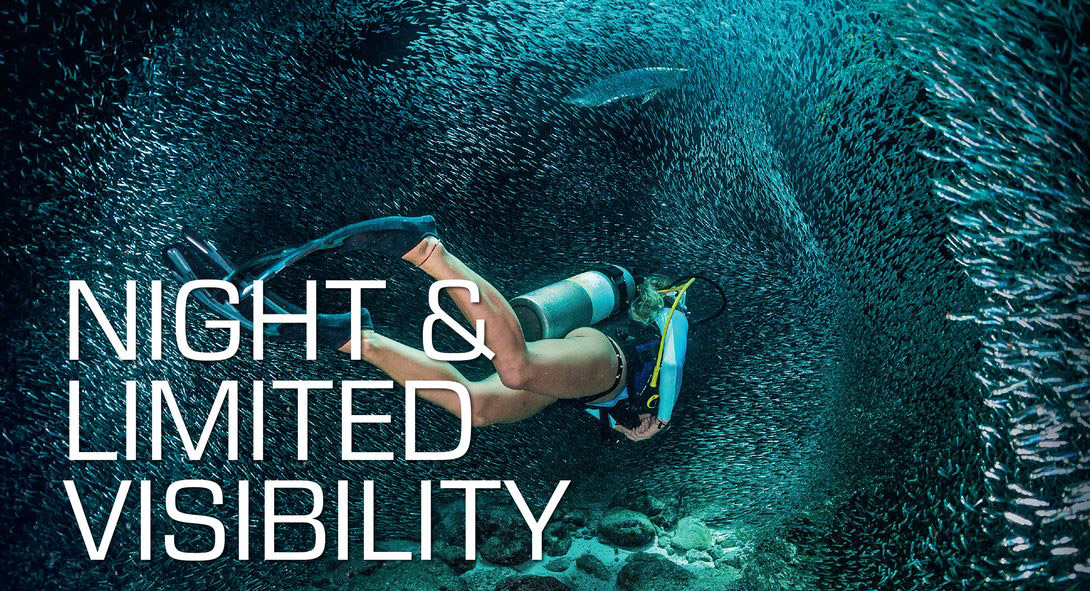 ---
You have three great options from which to choose.
---
Please note: Cancelling less than one week before the starting date will result in a forfeit of your course fee.
Where can I go from here?
Once you complete four SSI specialties and digitally log 24 dives you will automatically be sent your digital Level 3/Advanced Diver Recognition card.  There is no charge for this certification recognition.
---
To receive special pricing on multiple specialties, please call us at 303-789-2450.
Our Specialty Package includes Deep Diver, Navigation, Night & Limited Visibility and Perfect Buoyancy.
VIEW THE SPECIALTY PACKAGE