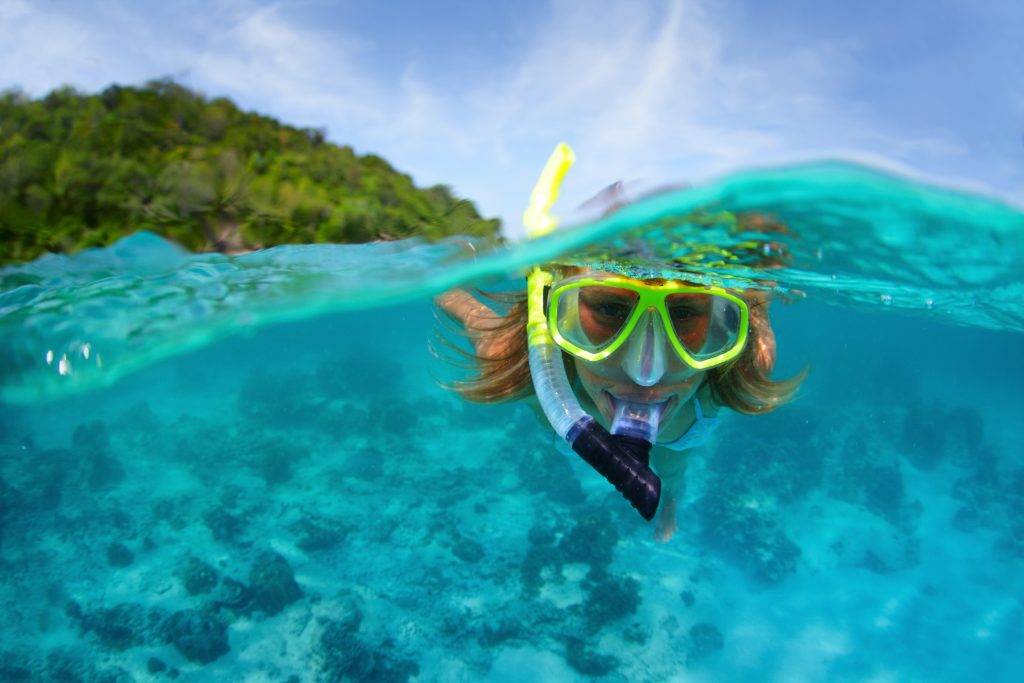 Snorkeling and scuba diving are great ways to get up close and personal with a variety of underwater creatures. If you are just starting out, you may be wondering which snorkeling essentials you need to buy and which to rent. Much of this comes down to personal preference, which you'll learn over time, but there are definitely some snorkeling essentials that you should equip yourself with. Here are a few to consider:
Snorkeling Essentials
At the very least, you should buy your own mask. It can be tricky to find a mask that fits properly, and this can be even more difficult when a rental outlet has a limited selection. If you plan on scuba diving as well as snorkeling, be sure to choose a mask that is suitable for both activities.
Though most rental companies will clean and sanitize the snorkels after each customer, there is no guarantee that this has been done, especially if you are renting your gear in a remote area. Bring your own just to be safe. As with masks, fins are another item that can be difficult to rent since they are not a "one-size fits all" item. If you are snorkeling, you can go with longer fins, but if you plan to scuba dive, you'll want to choose shorter ones.
Scuba Diving Essentials
If you only buy one piece of scuba gear, make it a wetsuit. Take the time to try on several options before making your final decision. The suit should fit snugly to trap warmth inside, but it should not be so tight as to restrict your movement. Keep in mind that wetsuits tend to be more flexible when they are wet, so err on the more snug side.
When it's time to get serious about owning scuba equipment, be sure to put a diving computer at the top of the list. There are a lot of items you can share, but a computer is a must. Tracking your bottom time, surface interval and repetitive dives are so much easier, and safer, when you have your own computer.
Get All Your Gear at A-1 Scuba
When you are looking for quality diving gear near you, look no further than A-1 Scuba. We have been outfitting Denver divers and snorkelers for many years, and we can help you find everything you need. If you are new to snorkeling and scuba diving, we recommend that you get started with our scuba diving lessons. After completing our scuba lessons, you'll be ready to take on open water dives all over the world.
We welcome you to stop by our shop in Denver today to learn more about scuba lessons and gear.