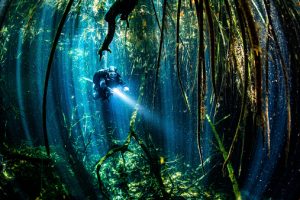 Learning to scuba dive will open your eyes and your mind to the exciting world that lives just below the surface of the water. When you head out to explore the underwater world after becoming a PADI certified diver, keep these 17 beginner scuba tips in mind as you get started:
1. Get Healthy and Stay Healthy. Being in good shape keeps you safe while you dive.
2. Take a Breath… and Relax. Stay calm and you will stay focused and safe. This also helps conserve oxygen during your dive.
3. Watch Your Gauges. Pay attention to the information your depth, nitrogen and other gauges relay.
4. Stay Sober. Never dive drunk or under the influence of drugs that alter thinking or reasoning.
5. Slap on the Sunscreen. This helps prevent burns near the surface and while you're on the boat.
6. Stay Alert. Stay aware of your surroundings, changes in the current, fish behavior, etc.
7. Keep a Log. This will become a reference guide for future dives and things you learn along the way.
8. Tread Lightly. Take only pictures and leave only bubbles.
9. Check Buoyancy at the Surface. Test your inflator hose and weights to ensure everything is working and properly attached.
10. Take it Slow. There's plenty to see, and plenty of time to see more if you take your time and slow down.
11. Plan Ahead. Know where you are diving, what you can expect to see, and what the diving conditions in the area are like.
12. Trust Your Gut. If your gut says "don't dive," then don't push your luck. Trust your instincts and learn to make decisions you're comfortable with.
13. Get Insured. DAN Certified divers insurance covers you in a diving emergency and it is well worth having.
14. Get Certified. A PADI certified diver is safe diver and it is well worth the investment of time and money to complete the course. Moreover, many dive operators will not take non-certified divers into the water.
15. Invest in Good Gear. Your gear is your key to surviving the depths. Don't skimp on it, but rather splurge on a good quality regulator, BCD, computer, mask, fins, etc., that you can rely upon.
16. Dive within Your Skills. Know your skill level and only do dives that will push the limits of your skills a little at a time.
17. Know Your Fish. Learn to identify fish species and the types of other animal and plant life, etc. you will encounter.
A-1 Scuba
Finally, get to know other divers. From May 19-21, Colorado's largest scuba diving event will take place at A-1 Scuba & Travel Aquatics Center.
We invite you to stop by to learn about our dive trips and to discover everything you have ever wanted to know about scuba diving and the many destinations we visit. We'll have Free Try Scuba Experiences in our pool, Free travel and equipment presentations by the pros, sales, plenty of prizes for you to win and two exciting raffle drawings: Craig Hospital and WAVES Project (Wounded American Veterans Experience Scuba)