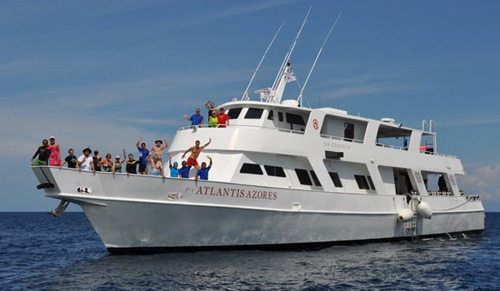 Philippines
July 16, 2018

-

July 28, 2018
Philippines Dumaguete & Bohol
Sold Out – Waitlist Only
Land Base 3 Nights and Live-aboard 7 Nights
The Philippines
The Philippines is comprised of over 7000 islands, boasting numerous world-class dive destinations with a variety of dive experiences. The world's rarest creatures can be found here on a regular basis. Everything from giant frogfish, ghost pipefish, octopus, seahorses, every variety of nudibranch under the sea and many more exotic marine species can be found in the Philippines.
On this fabulous trip you will enjoy diving the area known as the Visayas which encompasses several different islands and dive sites. You will be doing some of the best diving the world has to offer. Start your adventure land based with 3 nights at Atlantis Dumaguete. This resort truly offers the peace and relaxation some will search a lifetime for. Enjoy being pampered by the resort Spa's many fine treatments at incredible low rates.  Follow this up aboard the Atlantis Azores a 107 foot long live-aboard yacht for 7 nights.  The Atlantis Azores sleeps 16 divers in private air-conditioned cabins each with its own head and shower.
Trip Cost
Deluxe Room $5995 pp or  $5825 pp cash/ck. disc.
1 Owners Suite Available on board add  $490 pp (first come first served)
Deluxe Ocean Front $6065 pp or $5885 pp cash/ck. disc.                  
---
**May need 1 night hotel in LAX on Aug. 28 depending on LAX/DEN return flight **

Information to help you book your flights Denver to Los Angeles Round Trip
Agents at A-1 Scuba and Travel Aquatics Center would be happy to assist you in booking and ticketing your flights Denver -Los Angeles -Denver.  If you would like to book your own or have frequent flyer miles to use feel free to do so.  We do ask that you supply us with a copy of your flight information.
Please make sure you have adequate time for your air carrier to get you on their next flight out in time to connect with your flight out of LAX  to Dumaguete in case of a cancelled or delayed flight. Your flight LAX to Dumaguete round trip is included in your package.
You will need to check in with Philippine Air in Los Angeles a minimum of 3 hours prior to departure.
Philippine Air  is currently scheduled to leave LAX at 11:30 pm. on July 16. We suggest that you plan to arrive in LAX by  3:00 or 4:00 in the afternoon.
Philippine Air is currently scheduled to arrive LAX at 7:15 pm on July 28. It usually takes a couple hours in LAX to collect bags and clear customs. You may need an overnight at a hotel in Los Angeles the night of July 28 unless the carrier you book has a flight after 9:30pm.
---
Included
A-1 Inst. Escorts AnnaMaria & Butch Gast
RT Air LAX to  Dumaguete
RT Bus Transfer Airport to Resort Round Trip
3 Nights Land Based at Atlantis Dumaguete
3 Meals Daily at Resort & Up To 5 Boat Dives Daily
7 Nights Aboard Atlantis Azores
3 Meals Daily Onboard & Drinks
Up to 5 Dives Daily Onboard
Tanks and Weights & Free Nitrox (for Nitrox Certified Divers)
Commemorative Trip Shirt
NOT Included
Air Denver/Los Angeles Round Trip (A-1 Can Arrange)
Resort & Dive Crew Gratuities
Personal Dive Equipment
Departure Tax Approx. $3 From Dumaguete
Baggage Handling Gratuities
Marine Park Fees $44 in Dumaguete & $140 Onboard  (please note fees are subject to change)
Entry Requirements
A current U.S. passport with at least 6 months left before expiration at the time you return home. Please ask about special requirements for children under 18 years.
Note: A $2000 deposit is required to hold your spot. Space is limited; prices are based on double occupancy and are subject to change. Please be aware the airline or operator may impose a fuel or tax surcharge over which we have no control, an additional fee may be charged prior to departure. Single persons signing up may be subject to additional charges. Change to packages and cancellation penalties do exist.  Travel and Divers Insurance are highly recommended.
Full payment is due by April 19, 2018
[maxbutton id="42″]