A-1's Gas Blender Specialty Course
---
Why take this course?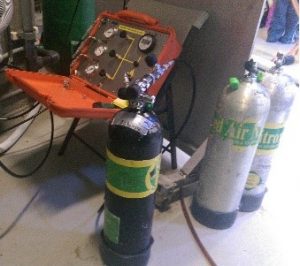 Gas Blender teaches the concepts and skills necessary to safely blend nitrox blends for mixed-gas diving. This is a non-diving program that is open to certified and uncertified divers, and teaches the theory and techniques required to safely blend breathing gases.
What You Will Learn:
Assist customers in the best gas selection for any given dive
Safely handle oxygen and prepare nitrox and trimix for scuba diving use
Determine gas mixing requirements manually and using gas blending software
Blend gas mixtures to within 1% of the desired value
Properly and accurately analyze the resulting blends
Prerequisites
What will you be doing?
Blend at least two (2) nitrox gas mixtures to within 1% of the desired value
Take a written final exam
Course Fee – $250
Includes
Online digital manual
Classroom session
SSI Speciaty certification
Sign Up Now
CALL TO SCHEDULE 303-789-2450