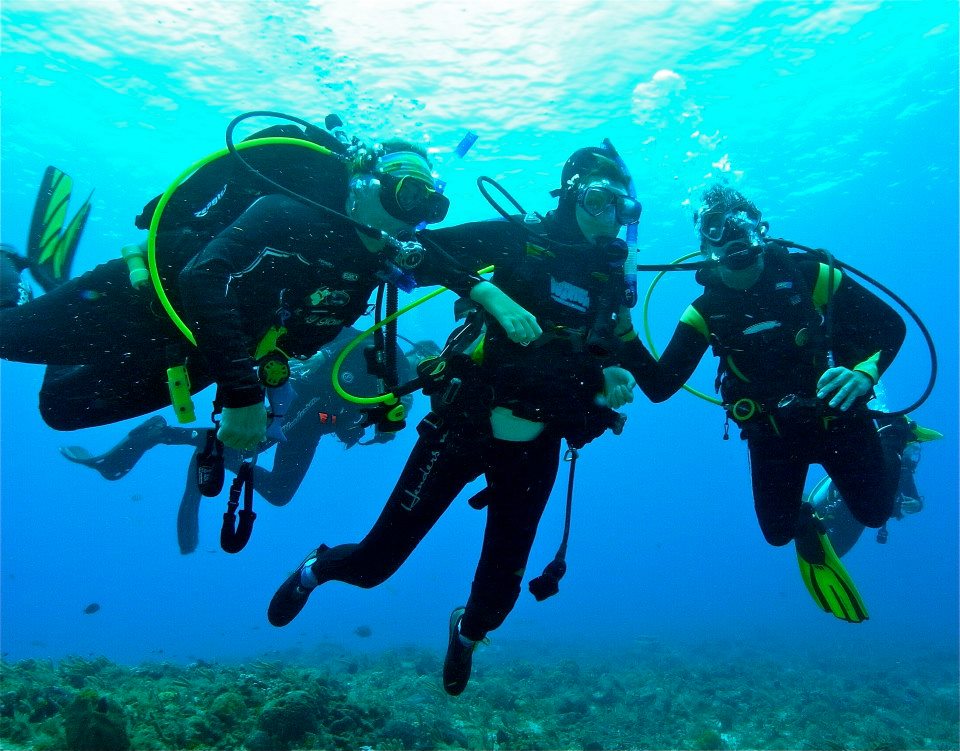 Cozumel: Annual Adaptive Scuba Trip
June 16, 2018

-

June 23, 2018
Hotel Cozumel & Resort
Sold Out – Waitlist Only
Disabled & Able Bodied Diver Trip
DIVING Cozumel
Located 11 miles off Mexico's Yucatan Peninsula in the Caribbean, Cozumel is considered one of the most beautiful and intriguing reefs in the world. Cozumel offers the diversity of drift diving in the densely populated marine life world. Enjoy the sparkling turquoise waters of Mexico.
Accommodations
Hotel Cozumel & Resort is conveniently located within walking distance of downtown. All rooms are air-conditioned with satellite color TV. Hotel Cozumel & Resort has the largest pool in Cozumel.
DIVING with Dive Paradise
Discover some of the best diving in the Caribbean. Cozumel is loaded with fantastic dive sites featuring walls, tunnels, caves, pinnacles, overhangs and outstanding marine life. Visit the famous reefs of Palancar, Santa Rosa, Columbia and Chankanaab. For your convenience the dive boat will pick you up at the hotel dock.
Trip Cost
Diver: $2105pp • $2045pp cash/ck. disc. price
Non- Diver: $1695pp • $1650pp cash/ck. disc. price
Single Diver: $2365  pp • $2295 pp cash/ck. disc. price
Single Non-Diver: $1960 pp • $1900 pp cash/ck. disc. price
Disabled Diver needing 1 H.S. A. Dive Buddy add $200
Disabled Diver needing 2 H.S.A. Dive Buddies add $400
A Disabled Diver bringing their own H.S.A. Certified Dive Buddy or a Rescue Diver  or above who has experience diving with disabled divers and has completed the H.S.A dive buddy course does not need to pay an extra fee.
An A-1 supplied H.S.A. buddy diver or rescue certified diver or above, who has experience diving with disabled divers and has completed the H.S.A. dive Buddy course, wanting to be a dive buddy for a disabled diver may subtract $350. (This is on a 1st come 1st served basis as needed and is dependent on the number of disabled divers needing trained dive buddies.
There are a limited number of rooms for disabled with wheel in showers (first come first serve).
Included
A-1 Instructor Escort Lynn & Scott Taylor & Carol Huserik
Roundtrip air from Denver
7 nights accommodations at Hotel Cozumel Resort
3 Meals Daily, Drinks & Snacks
5 days 2-tank boat Diving with Snack
Tanks & Weights
Transfers Round Trip Airport to Hotel Cozumel
Mexico Arrival, Departure & Hotel Tax
Commemorative Trip Shirt
NOT Included
Dive Guide Gratuity
$2.00 per day Marine Park Fee
Baggage Handling Gratuities
Personal Scuba Equipment
Travel & Divers Ins. (highly recommended)
Entry Requirements
A valid passport that will not expire within 6 months of return date. ** Special documentation requirements for children under 18.
Note
A $400 deposit is required to hold your spot.Space is limited. Prices are based on double occupancy and are subject to change. Single persons may be subject to additional charges. Please be aware the airline or operator may impose a fuel or tax surcharge over which we have no control, an additional fee may be charged prior to departure. Changes to package and cancellation penalties do exist.
Full payment is due by April 17, 2018
[maxbutton id="42″]
View Photos of Hotel Cozumel & Resort