Tec Sidemount Diver Program in Denver
---
Why take this course?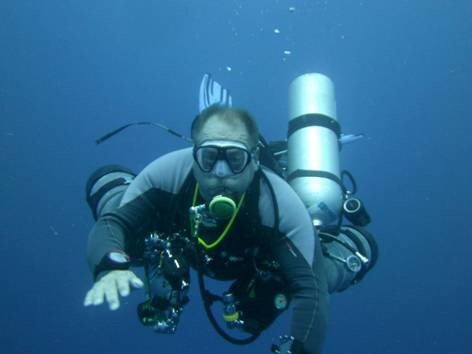 Sidemount diving offers many advantages over the use of traditional back mounted cylinders. In the past, options for increasing gas supply available for a dive involved manifolding two cylinders together, which doubled the weight a diver had to carry on their back.
With sidemount diving, the cylinders move from your back to your side. Transportation of cylinders topside is then much easier. Cylinders may be donned after entering the water, eliminating problems with wearing heavy cylinders out of the water. Redundant gas supply increases bottom time, and adds an extra level of safety to the dive. Sidemount diving provides added stability with the cylinders on the side of the body and double the gas supply. It is an alternative way to streamline in the water, easier to "trim out", and the diver has the ability to monitor all their equipment because it's right in front of you.
Use of a single sidemounted cylinder is also an option, which offers all of the advantages of easier transportation of cylinders, the ability to enter the water without having to carry a heavy cylinder, and equipment monitoring. Or, a diver could use two smaller cylinders for the advantages of increased bottom time, redundant gas supplies, and added trim and stability.
With a properly rigged sidemount system, your center of gravity is changed, and your cylinders almost feel like they are not even there!
If you've looked into technical diving, you realize that tec divers always wear more than one tank. Sidemount is an increasingly popular way to configure multiple cylinders for technical diving. You can enter the world of tec diving with the Tec Sidemount Diver course and apply what you learn to other TecRec courses. Your instructor may offer to integrate this course with the Tec 40, Tec 45 or Tec 50 courses.
What You Will Learn:
Benefits of sidemount diving
Sidemount equipment configurations and options
Dive planning and gas management skills
Options for entering and exiting the water with and without cylinders
Problem management in a sidemount configuration
TEC sidemount equipment configurations and options
Prerequisites
Must be PADI Advanced Open Water Certified, or equivalent
Be at least 18 years of age
Equipment requirements
Standard Snorkeling Equipment (Mask, fins, exposure suit)
Sidemount BCD and two (4) primary regulators with single 2nd stage and SPG (may be rented at A-1 Scuba for $150) – One (1) primary regulator must have at least a five to seven foot / one & a half to two meter hose for air sharing, and one(1) low pressure inflator hose. Two regulators with single 2nd stage and SPG may be oxygen serviced if used as deco regulators.
What will I be doing?
Tec Sidemount Diver involves 1 classroom session, 1 confined water session and 4 open water dives.
Tec Sidemount diver training may also be integrated with the Tec 40, Tec 45 or Tec 50 courses.
Course Fee
$425
The 5-dive Tec Sidemount Diver certification is $425.
If you are already a Recreational Sidemount Diver and you wish to upgrade to Tec Sidemount Diver, the course fee to upgrade is $200.  This can be done either as a stand-alone course or can be integrated with any TEC 40, 45 or 50 course by paying the upgrade fee in addition to the regular course fee.
Please Note: There is a separate $39.99 fee for the PADI Sidemount manual