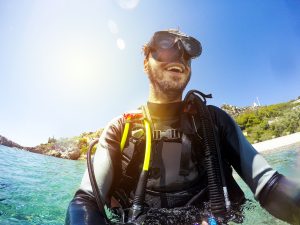 Whether you want to swim with sharks or discover the beauty of coral up close, scuba lessons and certifications open up a world of possibilities beneath the waves. The oceans of the world aren't that far from Denver International Airport, and our on-site store and full-service travel agency can help you enjoy some of the most beautiful stretches of water in the world.
We believe that diving should be on everyone's bucket list, and we do everything to give our clients the knowledge they need to dive safely and successfully.
Diving is a Dream Come True
Diving beneath the waves of the Caribbean, South Pacific and Mediterranean are dreams come true for many people. It is an opportunity to discover the beauty of nature and the diversity of life that inhabits the world's oceans.
From coral reefs and kelp beds to shipwrecks and schools of fish, each dive offers something different to experience and something new to discover. The true beauty of diving is you can choose what you want to see, where you want to see it, and the skills you want to learn that can make your dreams of diving a reality.
Classes Teach You the Basics
Swim lessons and scuba lessons/certifications give you the knowledge you need to prepare your dive, operate your gear and safely navigate through the water. At A-1 Scuba, we even have a partnership with the Denver Downtown Aquarium so our students can get a taste of the marvelous wonders they will discover in the open ocean before they leave the Mile High City.
Our scuba program happens in three simple steps:
The first step is the independent study that you conduct on your own time and at your own pace. You'll learn about everything from the effects of diving on your body to the equipment you will need to master.
The next step involves pool diving and classroom work. This section is where you get your "hands on" training with the equipment and discover how good it feels to submerge beneath the surface in our indoor swimming pool.
The final stage is your open water dives where you get to put everything you've learned into practice. The first two, of the four required open water dives, can be completed with A-1 at the Denver Downtown Aquarium.
We invite you to contact A-1 Scuba to learn more about our dive certification programs and to start your journey. Our scuba store/repair/rentals are among the finest in the Rocky Mountain region and we'll be happy to walk you through each stage of the process when you're ready to get your fins wet.