At A-1 Scuba and Travel Aquatics Center, we have spent the past six decades working with people who want to learn to dive. Over the years, we have helped thousands of adults and children obtain their scuba certifications from beginner divers through the instructor. We also have adaptive diving programs for children and adults with disabilities.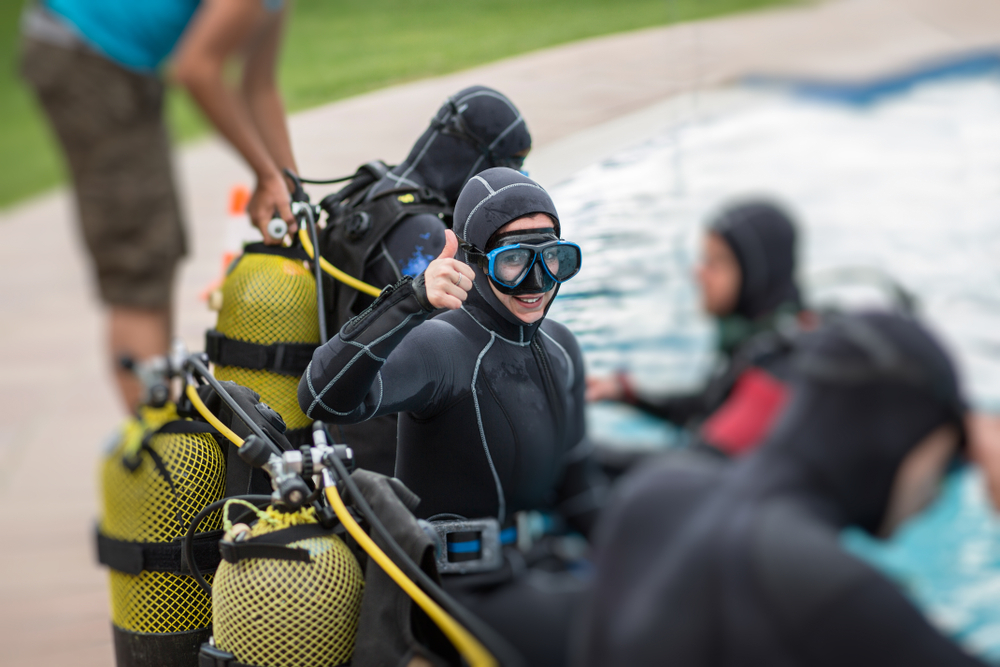 Both our students and professional divers are welcome to join us on the many trips we take around the world to exotic destinations like Roatan, Indonesia, Cozumel, the South Pacific, St. Lucia and more. If this sounds like the kind of adventure you would like to partake in, here's how to get scuba certified at A-1 Scuba in two easy steps:
Scuba Certification: Step One
In the first part of your training, you will focus on learning the basics of diving. This usually involves three main components:
• Online independent study
• Pool dives where you learn to dive and how to safely scuba dive
You can choose from five packages, ranging from $320 to $595. The prices vary based on the days you choose to attend training.
Scuba Certification: Step Two
Once you have successfully transitioned through the first step, it is time to move on to open water dives. If this makes you nervous, don't worry. "Open" is a relative concept, as there's even an option to begin your open water certification dives at the Denver Downtown Aquarium. Also up for grabs are locations in Utah, New Mexico, and locally.
Prices for open water dive training range from $195 to $395; depending on location.
Details on Special Programs
While the traditional route to obtaining your scuba certification is most popular, there are other available options tailored to your specific interests and skill levels. Here are some of the more specialized programs you should consider:
Beginner Scuba Classes
For those who aren't quite sure if scuba diving is their thing, we offer Try Scuba Diving Experiences where you get a taste of what diving is like, while under the supervision of a diving professional. This fun scuba diving experience will help you to determine if scuba diving is right for you.
Continued Education
Like any other skill or field, continued education is recommended. If you are looking for new and exciting ways to expand what you know and rack up those scuba certifications, A-1 Scuba can help.
Youth Programs

If your children have been showing a keen interest in scuba diving, give them the opportunity to try something they may come to love. If they are not keen on classes, we provide birthday parties and snorkeling opportunities for them to partake in instead.
Adaptive Services
At A-1 Scuba, we go the extra mile to ensure our classes are beneficial to everyone, including those who are living with disabilities. We are especially proud of our partnership with renowned Spinal Cord and Traumatic Brain Injury Center, Craig Hospital. Both in-patients and Craig "graduates" are provided the opportunity to experience scuba during our monthly free Try Scuba Experience for people with disabilities. We are also proud of our affiliation with Wounded American Veterans Experience Scuba (WAVES) program, allowing us to give the opportunity of scuba diving to American disabled veterans.
Technical Diving
If you consider yourself to be daring and adventurous, technical diving may be for you. Our technical diving courses equip you with the tools you need to explore the unexplored corners of the sea.
First Aid & CPR
It 's important to be able to assist others in need and to be the best diving buddy possible. Our Stress and Rescue Diver course and DEMP (Dive Emergency Management Provider) courses are the perfect programs for those who want to be a better and safer diver and dive buddy.
Are you ready to learn to dive and acquire your scuba certification? take your skills out into the open waters? Submit your information or queries here to have all your questions answered on how to get scuba certified and to get the ball rolling.